Warm mornings are for cool breakfasts. Something to start the day right, fill you with goodness and keep you satisfied all morning. Breakfast is considered to be one of the most important meals of the day, but many people skip this meal as they say that consuming food early in the morning tends to make them feel hungrier throughout the day.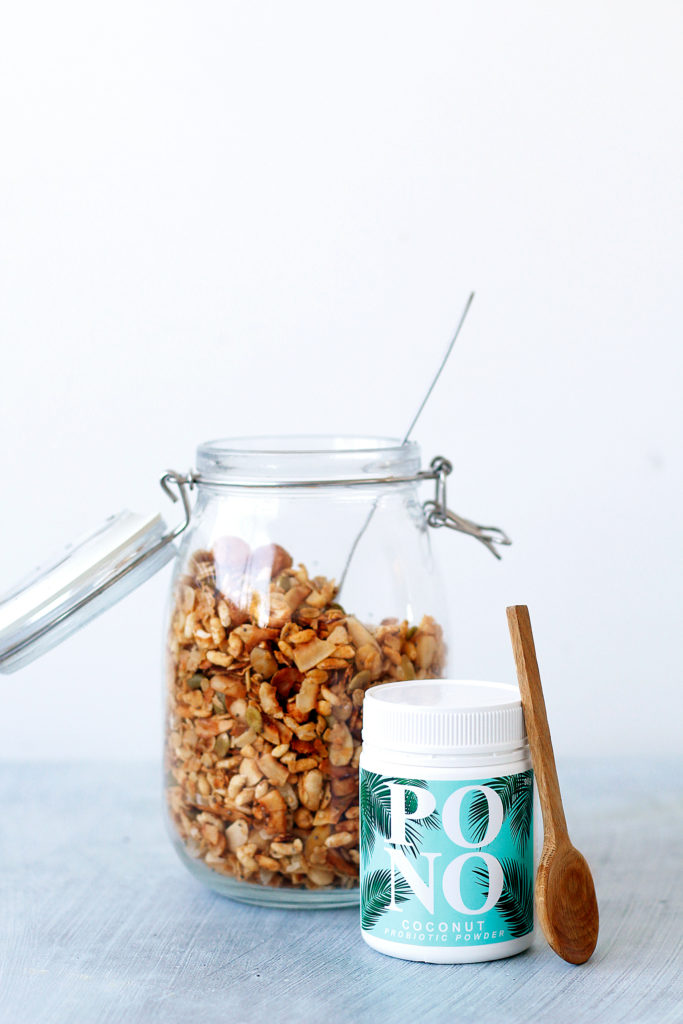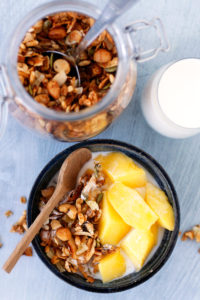 To ensure that hunger isn't an issue for you, a good quality breakfast should include carbohydrates, protein and fibre. Protein and fibre are both components of food that keep you feeling satiated, but are often skipped. A common Australian breakfast – a couple of slices of toast with some jam or Vegemite on top. While tasty, and probably nostalgic, this meal doesn't contain much bulk – it lacks protein, fibre and also quantity. The volume of food you consume is important. If your meal is too tiny, you're not going to be eating enough to feel full anyway. You've gotta have that balance.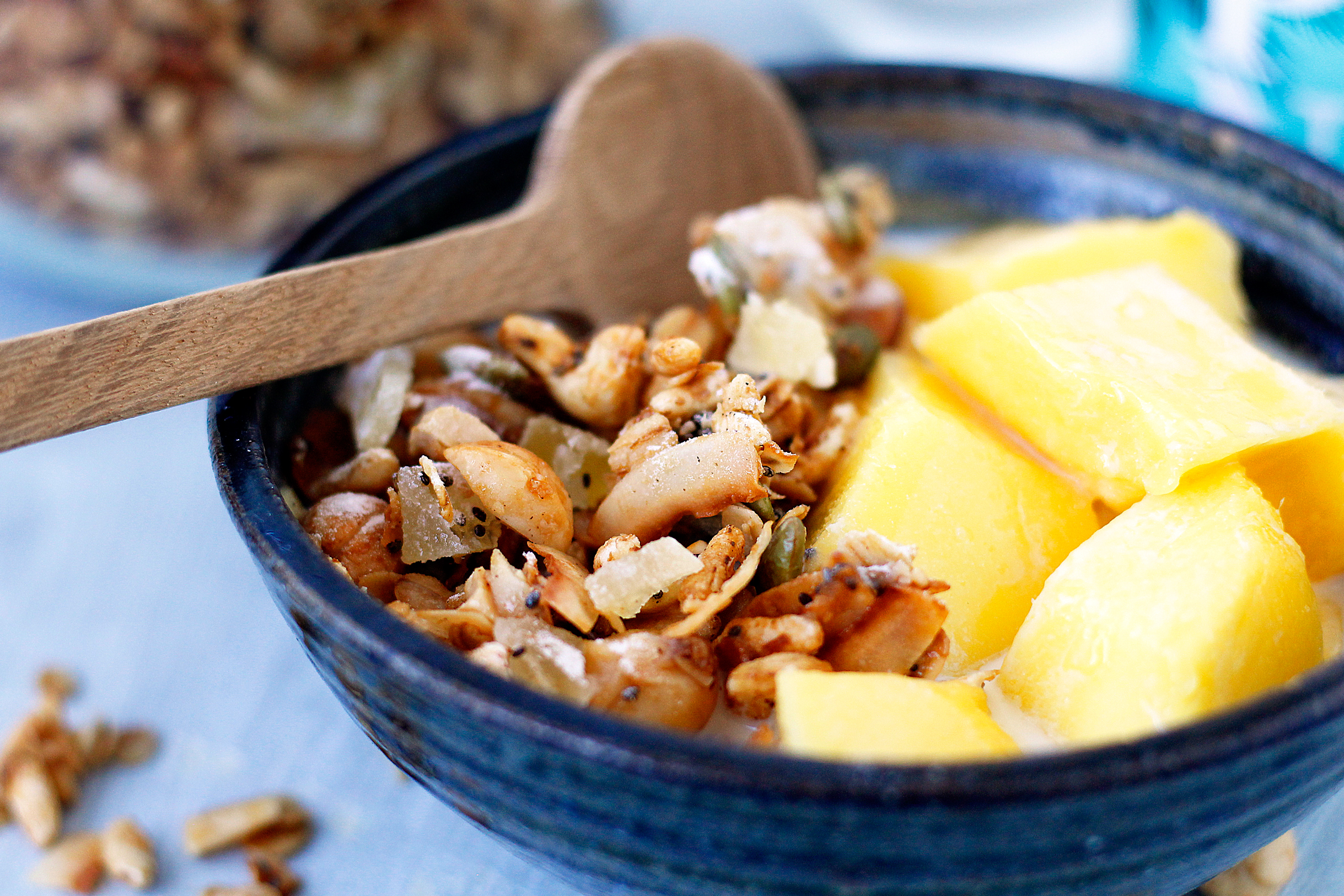 When I think of summertime flavours, my mind goes to tropical fruits and toasty nuts. It's nice to have something sweet and cooling first thing in the morning as I find that the heat can often be off-putting. Many store-bought granolas are laden with sugars and preservatives and tend to be heavy on the fruit and oats. This summer granola has plenty of nuts and seeds to give you that protein and fibre kick. Plus it is super easy to make. Give it a go.
To serve this granola, I opted for fresh mango chunks (as they are in season), milk and a teaspoon of Pono's Coconut Probiotic Powder. This powder is quite new to me, having tried it for the first time not too long ago, but I am a hugggge fan. Firstly, it tastes heavenly. It has a sweet coconut flavour and is packed full of probiotic bacteria. The powder can be enjoyed straight off the spoon, in smoothies or sprinkled on to granola 🙂
Read more about Pono Probiotics here.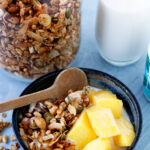 Summer Granola
Ingredients
1

cup

rolled oats

1

cup

puffed rice

1/2

cup

slivered almonds

1

cup

raw macadamias

, roughly chopped

1

cup

raw cashews

, roughly chopped

1/2

cup

pumpkin seeds

2

tbsp

chia seeds

1

cup

coconut chips

2

tbsp

honey OR maple syrup

2

tbsp

oil

(macadamia oil, rice bran oil or coconut oil)

1/2

tsp

ground cinnamon

100

g

dried pineapple

, chopped roughly

Mango cheek

, to serve

1

tsp

Pono Coconut Probiotic Powder

(optional - to serve)

1/2

cup

milk

, to serve
Instructions
Preheat oven to 150ºC. In a bowl, combine oats, puffed rice, slivered almonds, macadamias, cashews, pumpkin seeds and chia seeds.

In a smaller bowl, combine honey, oil and cinnamon. Microwave for 30 seconds until at a pourable consistency. Pour over granola and toss until evenly coated.

Place granola on to a baking paper-lined tray and bake for 40 minutes, tossing in between. Remove from the oven and allow to cool down completely. Toss through chopped dried pineapple.

To serve, scoop half a cup of granola into a bowl, sprinkle with Pono Coconut Probiotic Powder and top with fresh mango. Pour milk over the top before devouring. Keep granola in an airtight container for up to a week.
---
Let me see all of your food creations and delicious snaps by using the hashtag #eatnik on your photos! 
4