It's getting steamy, and lately I've found myself getting increasingly grumpy as the degrees increase, and I've started contemplating whether to turn on my air conditioning in order to regulate my body temperature and mood.  We're all looking for a way to cool down (well, you are if you're also in Brisbane like me), and what better way to do that than with a cold, creamy dessert. Added bonus – it is packed with protein and healthy fats.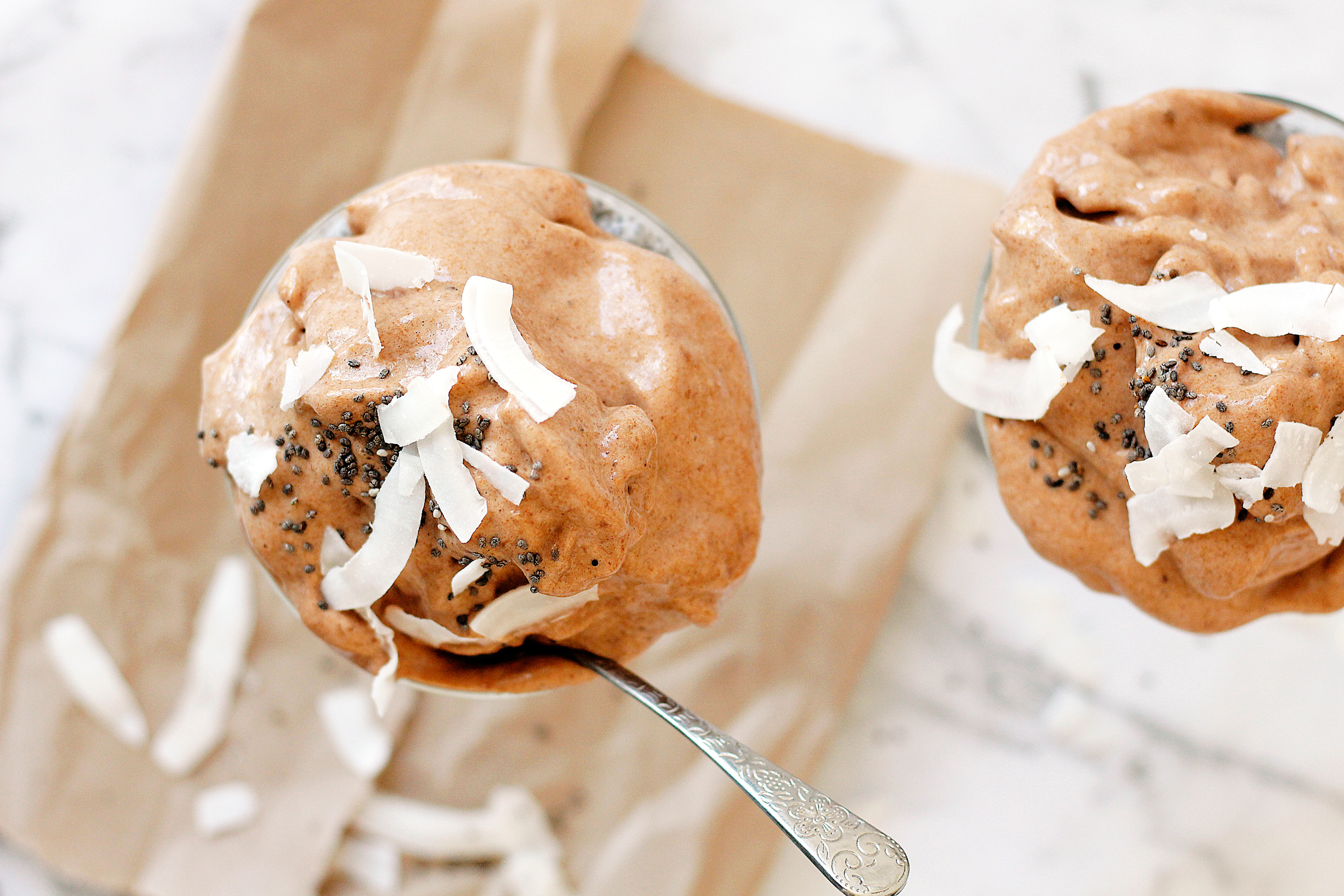 A great dessert for children as summer creeps closer, or any dessert-loving adult like myself. I love making this vegan banana ice cream (or 'nice-cream' as it is so lovingly termed on the internet). It is easy, with only three ingredients involved, has a airy, silky texture and provides a serve of fruit, with no additional sugar necessary. It doesn't have to be vegan, you can absolutely add a splash of cow's milk, and some mini chocolate chips to give it a crunchy texture, you're only limited by your imagination when it comes to flavour combinations with this recipe.
I frequently browse Pinterest for food inspiration, and I came across a number of photos of chia pudding parfaits. Layered with yoghurt, granola, fruits, nuts and banana ice cream – I thought this is a fantastic idea for sweet treat. I've always been a fan of chia pudding, but I understand that there are many that aren't fond of the texture. Something like a bircher muesli could also go under the banana ice cream as well, and you could easily swap this in if you prefer. What do you layer your chia pudding with?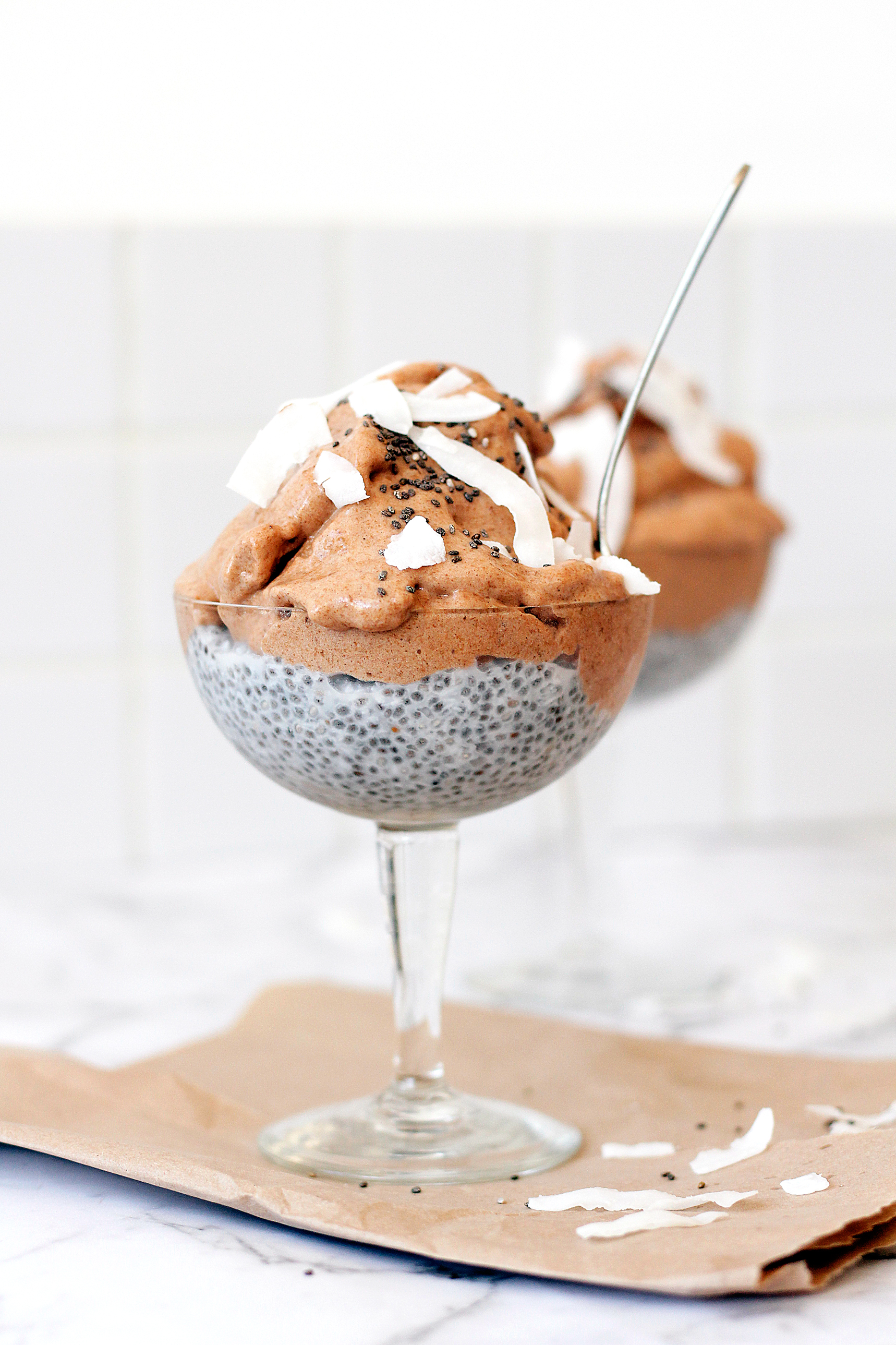 Both the chia pudding and ice cream are all vegan, dairy free and refined sugar free.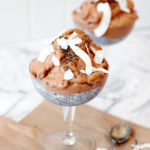 Coconut Chia Pudding with Cacao Banana Ice Cream
Ingredients
Coconut Chia Pudding
2

tbsp

chia seeds

1

tbsp

desiccated coconut

1.5

tsp

Natvia Natural Sweetener

1/2

cup

coconut milk
Cacao Banana Ice Cream
2

bananas

, chopped and frozen

3

tsp

cacao powder

1

tbsp

coconut milk

Coconut chips

, to serve
Instructions
Coconut Chia Pudding
In a bowl, combine chia seeds, coconut, sweetener and coconut milk and stir to combine. Place in the refrigerator for 15-30 minutes until chia seeds have soaked up liquid and pudding has formed.
Cacao Banana Ice Cream
In a blender or food processor, place chopped frozen banana. Blitz bananas until they become a smooth, ice cream-like consistency. This can take 5-10 minutes depending on the powder of your blender. Bananas become a crumb first before becoming smooth.

Add in one tablespoon of coconut milk and 3 teaspoons of cacao powder and pulse to combine all ingredients. Scoop ice cream into a bowl and place in the freezer for 10-20 minutes until it has firmed up.

To serve, divide chia pudding into two bowls or cups and top with cacao banana ice cream. Sprinkle chia seeds and coconut chips on top.
---
Let me see all of your food creations and delicious snaps by using the hashtag #eatnik on your photos! 
This recipe is in collaboration with Natvia.
5