I've dabbled in making nut butters for a long time, and while it's a time-consuming process that requires patience I don't really have, the end product is always rewarding. It is one of things where it is truely so much easier to go out and buy the product, but you feel a strong sense of achievement telling people you made your own. That, and the homemade version is obviously much more pure and/or significantly less expensive. The ingredients list is much shorter and there is guaranteed to be no artificial flavours and preservatives present, and you don't have to sell an organ in order to afford a jar.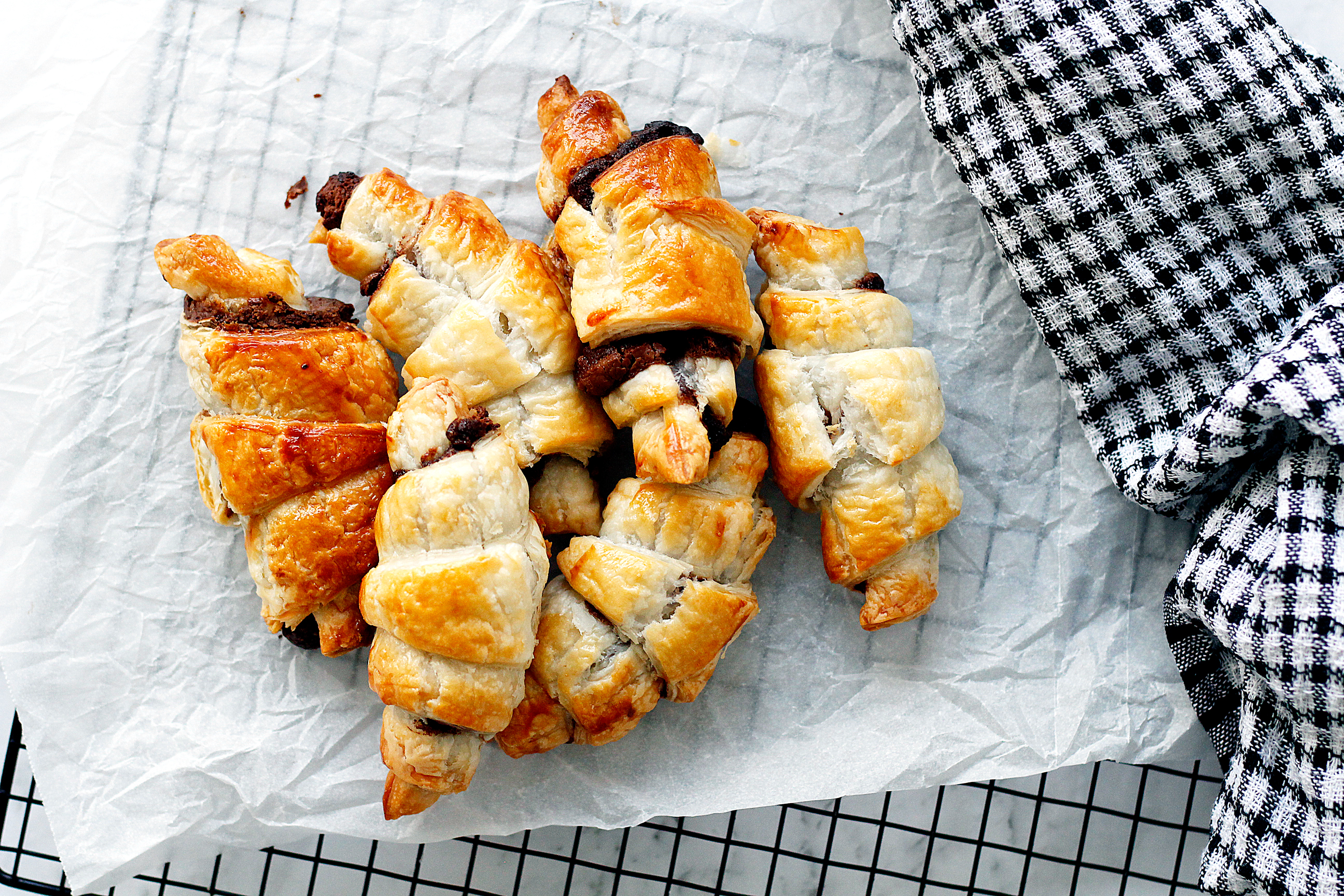 In saying all of that, there are also certain foods that I absolutely adore, and would love to make at home, but takes such an effort that I just cannot be bothered. When it comes to delicious, homemade treats, it depends on where the item would sit on the impressive versus effort scale. It's impressive, and simple to make – yes, lets do it. It's impressive, but I'll have to be in the kitchen for hours and the process has too many steps – nah, not worth it. I'll buy it. Croissants 100% fall below the line. I also have this issue with making any type of bread product. The idea of making homemade bread does actually appeal to me greatly, but I have never been able to master the art. Croissant making requires the skills of one who can make decent bread, and sadly, that is not yet me. Every few months though a new wave of motivation comes over me and I try my hands at bread making again, so who knows, maybe in the future you'll see a loaf on this blog. Stay tuned.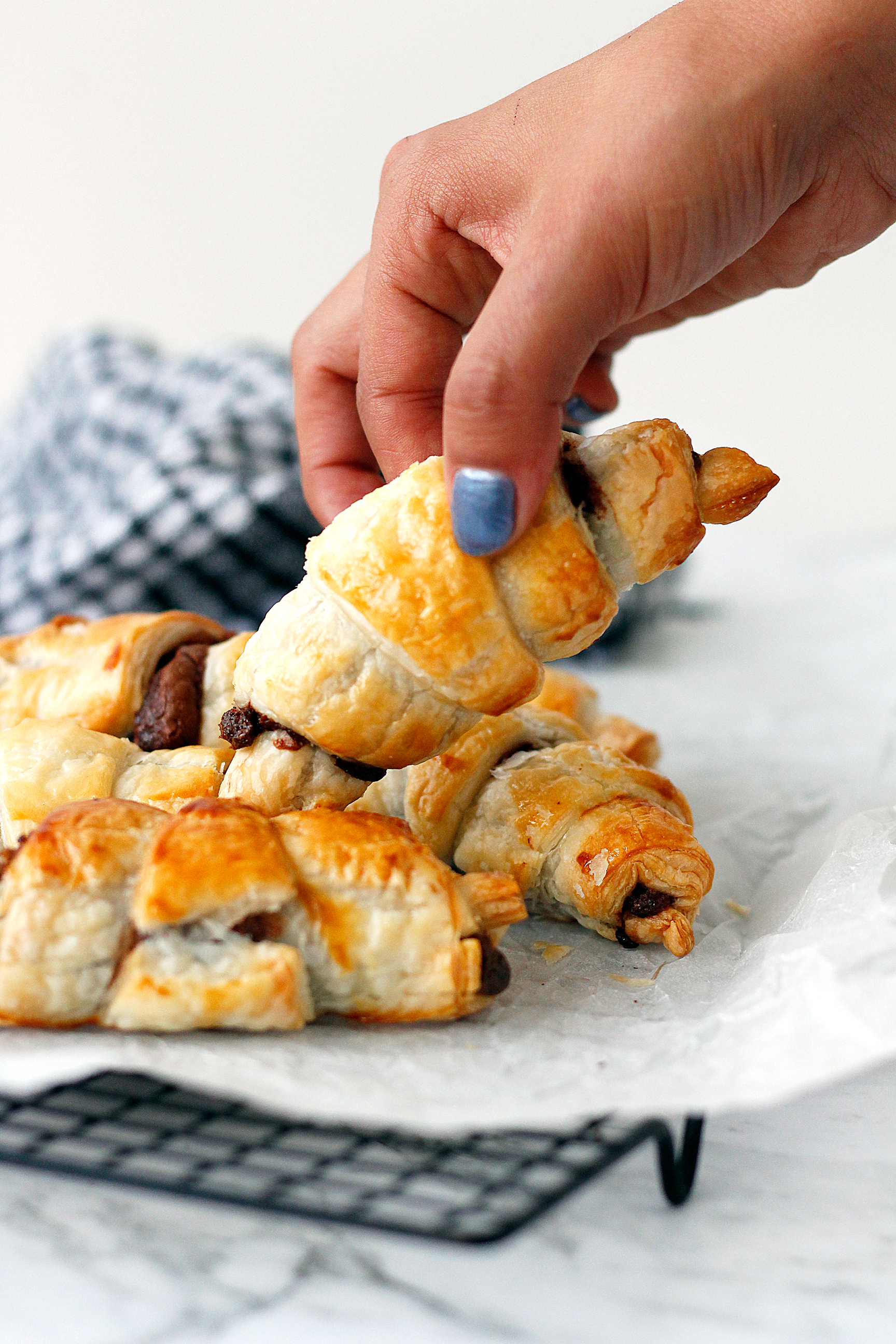 Croissants are wonderful, buttery, flaky puffs and when they contain chocolate or a sweet almond filling are just so addictive and moreish. I don't buy them often, but when I do it's always a magical experience, especially when the pastries have been bought from a beautiful bakery or patisserie. I've never been to France, but when I do get to travel there, indulging in an authentic French croissant is obviously on my list of to do's.
This recipe is a combination of two components – one that I enjoy making myself, and one that I don't. Hence the 'cheats' part. However, if you know how to make croissants, by all means, go ahead. I'm jealous of you. These cheat's croissants are still crispy and delicious and make for a perfect treat with a hot cup of coffee.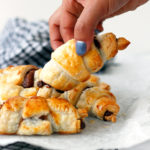 Cheat's Choc Hazelnut Croissants
Ingredients
1

cup

raw hazelnuts

2

tsp

Natvia Natural Sweetener

1

tsp

cocoa powder

2

sheets

store-bought puff pastry

1

egg

, lightly whisked
Instructions
Preheat oven to 180ºC. In a food processor, or high-powered blender, place raw hazelnuts. Pulse, scraping down sides regularly, until a thick nut butter forms. This can take between 15-25 minutes depending on your appliance. Nuts become a crumb first, and then release their oils to transform into a smooth paste - so be patient!

Add in the sweetener and cocoa powder and process again until combined. If nut butter is too thick, two teaspoons of peanut oil can be blended in to thin it out to a spreadable consistency.

Cut square of defrosted puff pastry in half, into a rectangle. Within each rectangle, cut diagonally from corner to corner, creating two triangles - or four in total for the sheet.

Spoon approximately one tablespoon of nut butter on to the wider end of the triangle and spread upwards for about one third of the pastry. From the larger end, roll pastry up. Bend sides to make a croissant crescent shape.

Place croissants on a baking paper-lined oven tray and brush lightly with beaten egg. Bake for 25 minutes or until golden brown and crispy.
Recipe Notes
Experiment with different homemade nut butters: almond and cinnamon, macadamia, honey and cinnamon or chai spiced cashew butter.
---
Let me see all of your food creations and delicious snaps by using the hashtag #eatnik on your photos! 
Recipe in collaboration with Natvia.
5