I always rant on about making vegetables interesting. In my opinion, this is key for weight loss, general healthy eating, or just keeping sane. Boring vegetables make for boring meals, and while plain salads and steamed greens have their place in this world, if you're eating it too many nights in a row, it stops making you excited to eat. And you should always be excited for food!
I am enjoying the combination of hot proteins and raw vegetables (see Mexican Chilli Bowl, where I also mention creativity with vegetables is important). Not only does the sauce on the pork in this recipe give the salad a great flavour, but the tartness of the actual salad dressing is a fantastic combination with the sweetness. This dish looks exciting, and is exciting. It is very simple to make (most of the recipe is simmer time), and it tastes great. I've served this recipe to a number of people so far and everyone loves it. I have always thought that salad created by other people always taste better, and now I realise that is because other people tend to make their salads for interesting. Different colours and texture combinations make for a good plate of greens.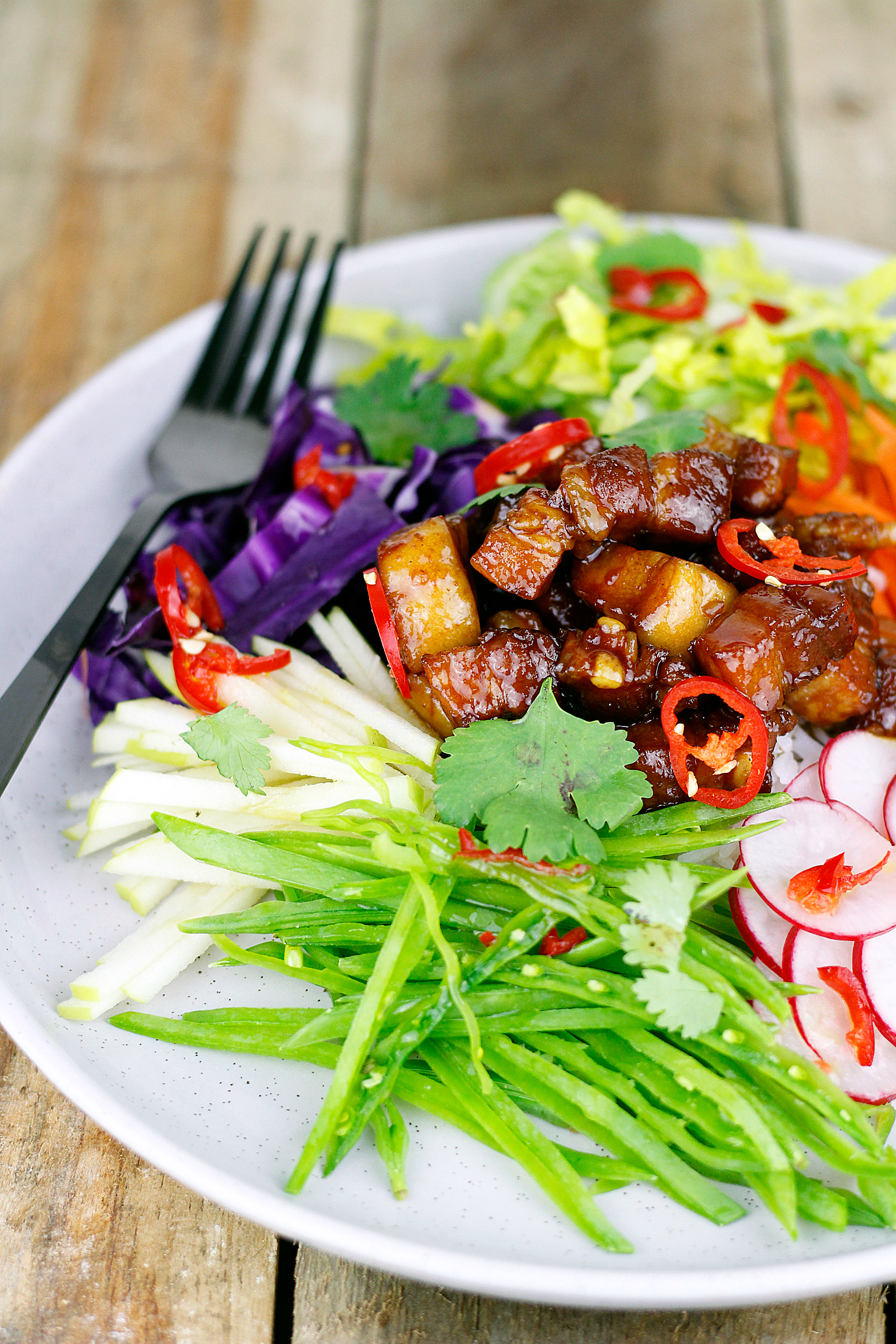 Pork is my favourite protein, mostly because it is used so widely in Asian cuisine, so I ate a lot of it while growing up. I find that it is incredibly versatile, in all it's forms, and pairs well with strong flavours. You could substitute pork spareribs for pork belly in this recipe. If you wanted to substitute for another type of meat, or for a vegetarian option like tofu, you'd need to let the sauce cook down quite a lot before you added in the protein, as these options don't require a long cooking time.
Feel free to change up the vegetables as well in this salad, depending on what you have available or what is in season. Try shredded pak choy instead of lettuce, or add some watercress or julienned cucumber. If you don't like coriander (crazy), fresh mint leaves could be a suitable substitute.
This pork recipe was inspired by Marion Grasby.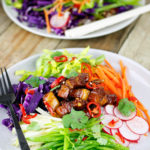 Sticky Pork with Asian Salad
Ingredients
Pork
1/2

cup

brown sugar

800

g

pork spare ribs

, cut into 2cm chunks

1

cup

water

2

garlic cloves

, minced

2

tbsp

fish sauce

1

tbsp

soy sauce

1

tbsp

dark soy

1/2

tsp

ground white pepper
Salad
1

small

baby cos lettuce

, sliced thinly

1/4

red cabbage

, sliced thinly

1

green apple

, sliced into matchsticks

2

carrots

, julienned

200

g

snowpeas

, sliced thinly

6

small

radishes

, sliced into matchsticks

1/2

bunch

coriander leaves

, to serve
Salad Dressing
1

long red chilli

, finely chopped

2

tbsp

lime juice

1

tbsp

extra virgin olive oil

1

tbsp

honey
Instructions
Sticky Pork
In a medium saucepan, add brown sugar with one tablespoon of water and cook over a high heat until a dark, sticky caramel forms.

Add pork to the pot and toss to coat. Add water and bring mixture to the boil. Skim off any impurities from the water as they surface. Stir in garlic, fish sauce, soy sauce and dark soy. Reduce the heat to low and allow to simmer uncovered until the pork is tender and the sauce has reduced down to a thick and sticky coating (approximately one hour).
Salad and salad dressing
To make the dressing, combine chilli, lime juice, oil and honey in a bowl and whisk until emulsified. Place all chopped fruit and vegetables on to serving plates in a circle.

When pork is cooked, divide into four portions and place into the centre of the salad. Drizzle dressing over the top of the salad and pork.
---
Let me see all of your food creations and delicious snaps by using the hashtag #eatnik on your photos! 
9