Who can resist caramel slice? Nobody. It's just too good. This recipe is so good, even those who are partial to the ole' raw sweet treat will love it. I would know, I am one. Although you probably wouldn't think that with the amount of raw treat recipes I keep uploading. I've found a place in my heart for them though, and they are actually quite enjoyable to make.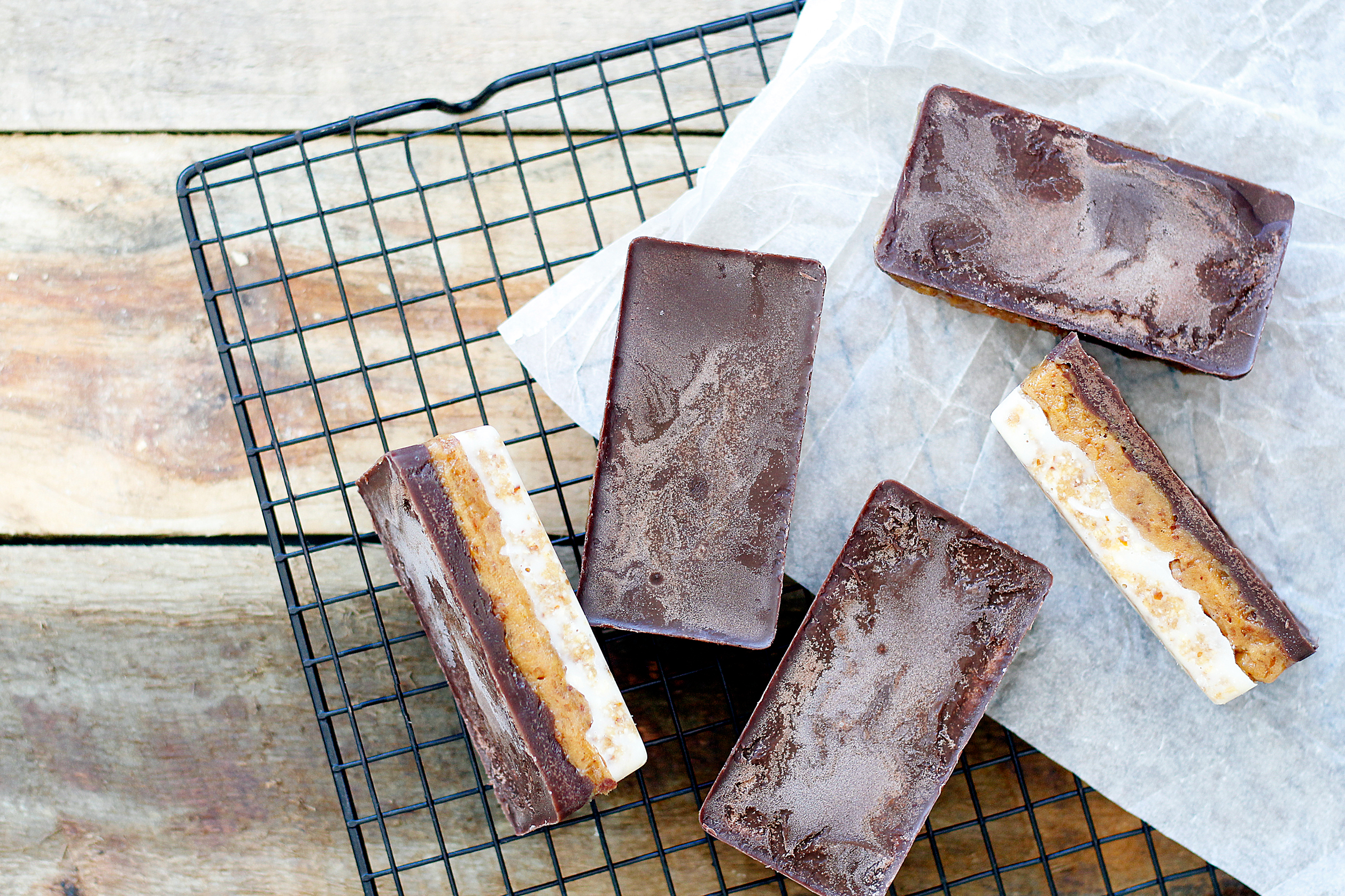 I've noticed an increase in the amount of people that are now following a vegan lifestyle, or have an intolerance to gluten and dairy. I think that these types of recipes are perfect for those who can't tolerate some of the typical baking ingredients, or who have chosen to omit all animal products. Sweet treats should be able to be enjoyed by everyone!
Every man and their dog have their own version of caramel slice, whether it be traditional or raw, and to be honest, they are all delicious. I wouldn't say the raw version is better than the traditional type that you find at your local bakery, but instead it just uses more natural ingredients (and my recipe is vegan-friendly too). My version would be equally as energy-dense, if not more so, than the old school favourite. Each to their own. Eat both in moderation. I cannot stress this enough. While there's no straight up table sugar or butter in the ingredient list of this recipe, let me tell you this slice is still high in sugars and fats. So I would definitely recommend against having this slice for breakfast, and encourage only a small portion for a dessert or similar.
You can use this caramel in a variety of ways, not just in a slice. It's great as a vegan alternative to regular caramel and works fabulously with baked fruits like pears or apples. You could make a version of a banoffee pie with this caramel as well, or jig around some of the ingredients below and make a Twix or Snickers-inspired slice instead.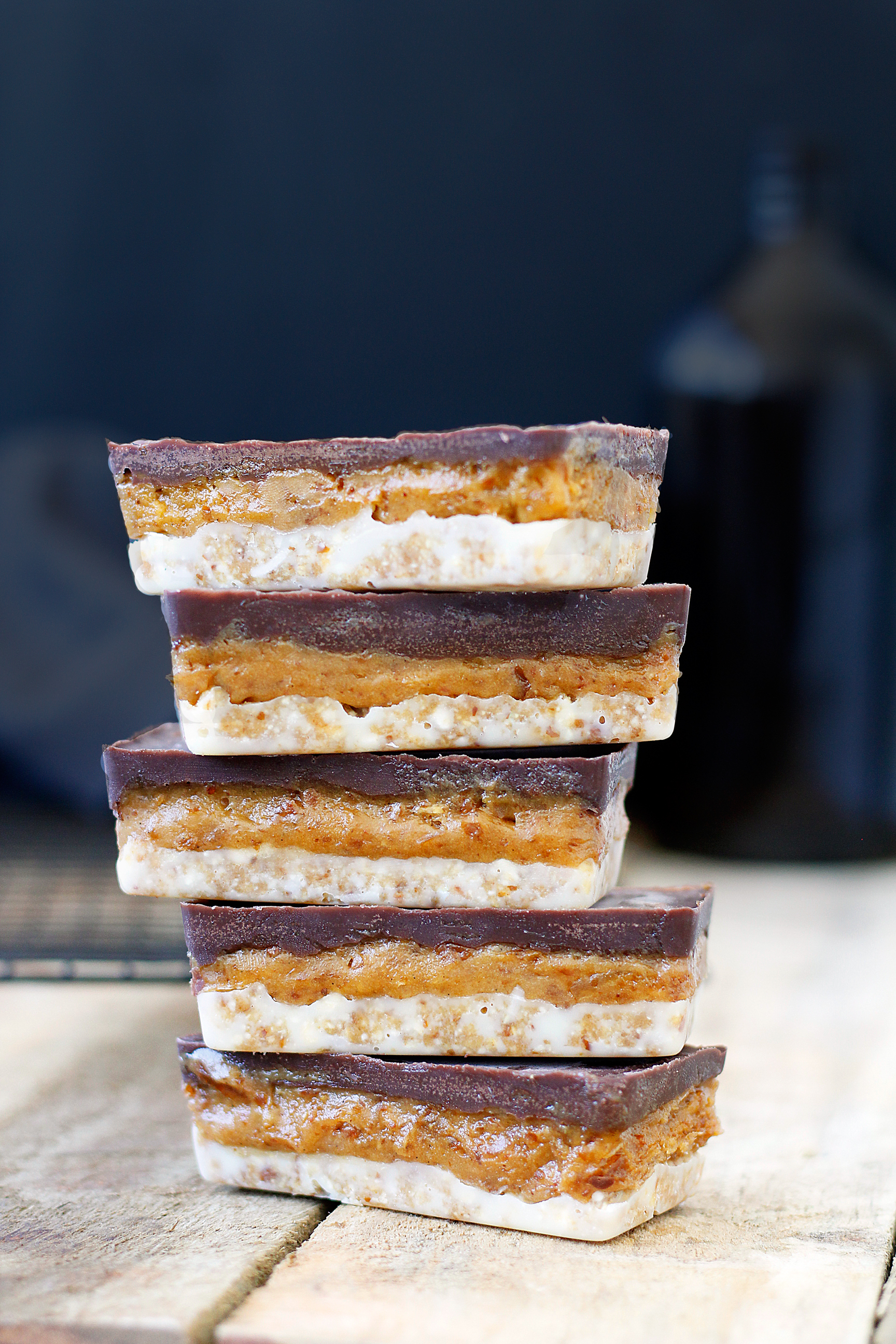 While the recipes makes 6 bars, each bar can serve 3-4 people. This slice is very decadent.
Raw Miso Caramel Slice
Ingredients
Base
3/4

cup

cashews

1/2

cup

shredded coconut

6

medjool dates

, pitted

2

tbsp

coconut oil

, melted
Filling
12

medjool dates

, pitted

1/3

cup

tahini

2

tbsp

maple syrup

1

tsp

vanilla extract

1-2

tsp

miso paste

(to taste)
Topping
1/3

cup

sugar free hot chocolate mix

1/4

cup

coconut oil

, melted
Instructions
Base
Place cashews, coconut, dates and oil in a food processor and blitz for two minutes, or until the mixture resembles a crumbly dough. Press the mixture into 6 silicon bar moulds and place in the freezer to set.
Filling
Place the dates, tahini, maple syrup, vanilla and miso paste in a food processor and blitz for two minutes or until smooth. Spread your caramel over the base, and place back into the freezer for two hours.
Topping
Warm the coconut oil in the microwave for 30 seconds, and add sugar free chocolate powder. Whisk vigorously until there are no lumps. Remove bars from the freezer and pour chocolate topping over each bar. Place back into the freezer for at least 10 minutes to harden. Pop out bars and serve. Keep in the freezer when storing.
Recipe Notes
If you're not too keen on miso paste, replace it with a pinch of sea salt flakes instead.
---
Let me see all of your food creations and delicious snaps by using the hashtag #eatnik on your photos! 
5