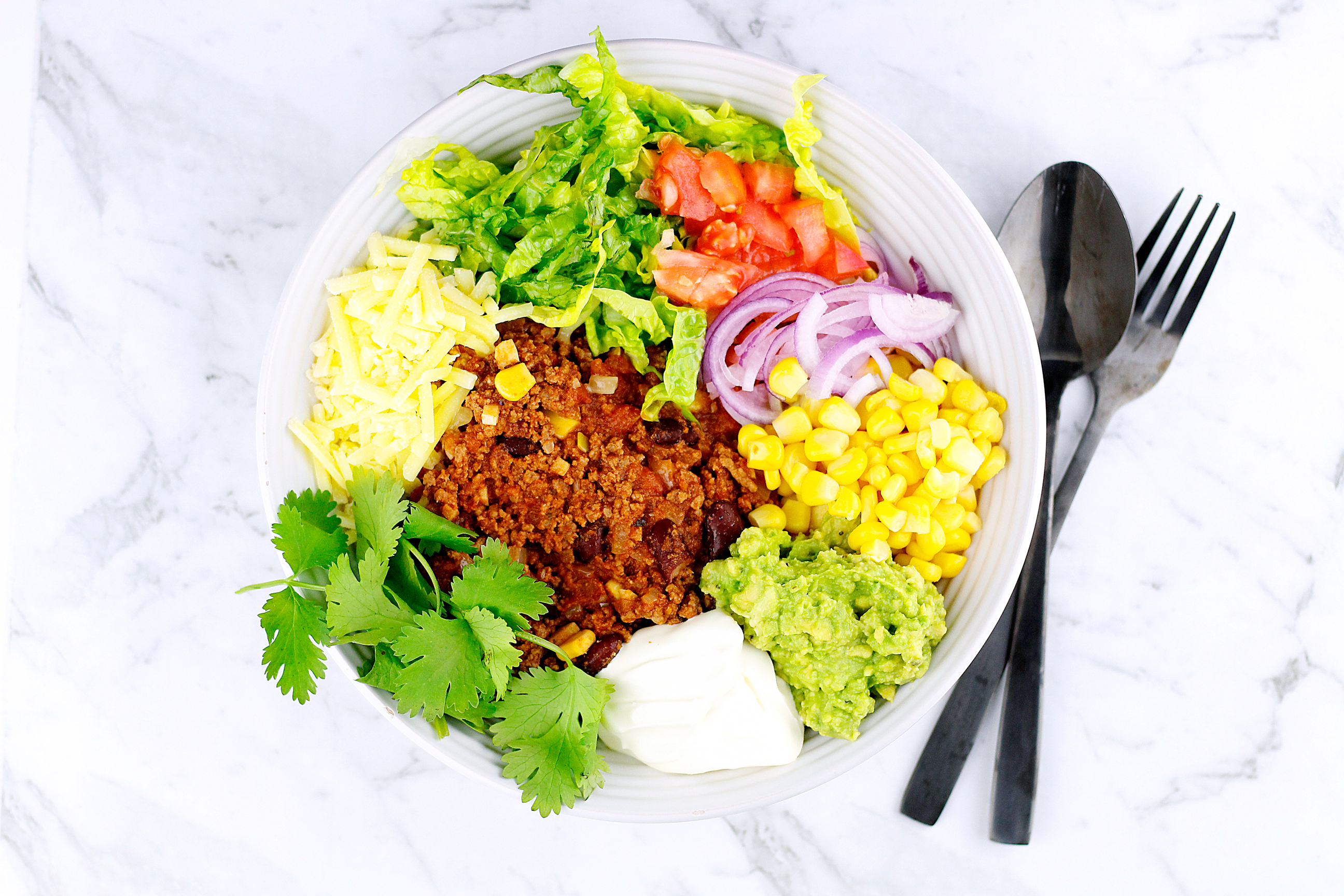 I'm currently loving 'bowl foods'. That is, a meal you serve in a nice big bowl, where you just stir it up and shovel it in. Easy, practical, delicious. Typically, whenever I thought of bowl foods, my mind would go straight to curry and rice, or spaghetti bolognese. Both fantastic, homely dishes. Lately though, I've been trying to change it up with more exciting meals that have a great nutritional content. I have the same, simple equation for my bowl foods:
Protein + Carb + Vegetables
What this means is that I like to include a serve of good quality protein, a small amount of carbohydrates, and plenty of vegetables. For me, this is how you get most bang for your buck. Particularly with those added vegetables. Great nutrition and a decent quantity of food to keep you fuelled and satisfied, but not stuffed. I've done a few posts on different ways you can make vegetables exciting, and I always mention how important it is to keep your vegetables creative, so you never tire of them. Bowl foods are how I'm keeping my veggies creative right now. I really enjoy the combination of hot ingredients and cold vegetables. So I've got a few recipes coming up where we are mixing a hot protein with a fresh, crunchy salad (stay tuned).
This Mexican Chilli Bowl is one of my absolute favourite meals right now, for a few reasons. Firstly, it is straight forward – protein, some carbs, lots of vegetables, and lots of flavour! Bowl food at it's finest. Secondly it is incredibly easy to make. I'm talking under 30 minutes from start to finish. Yes please. Thirdly, it is perfect for meal prep. It can be made in advance and frozen in portions, or it makes for a great 'next day' meal either for lunch or dinner. I've been making it at least once a week, and I love taking the leftovers to work the following day. Finally, and most importantly, it tastes fantastic. I mean, those classic Mexican flavours are generally loved my most people.
As I've said before, the addition of lots of vegetables in a meal does a few things for you:
Vegetables are good for you: packed full of fibre, vitamins, minerals and antioxidants.
Fibre, fibre, fibre: great for your gut and your bowels, and keeping you full (bonus!)
Increases the quantity of your meal: we eat with our eyes, and a teeny tiny little portion of food is going to make you think 'I'm going to need a snack afterwards' even before you start eating. Packing your meal with vegetables boosts the quantity, so you're eating more, but doesn't shoot up those calories.
When you add those vegetables in, you will find that you don't need such a large serve of carbohydrates or protein and you can exercise better portion control. Remember, vegetables should make up at least half your plate!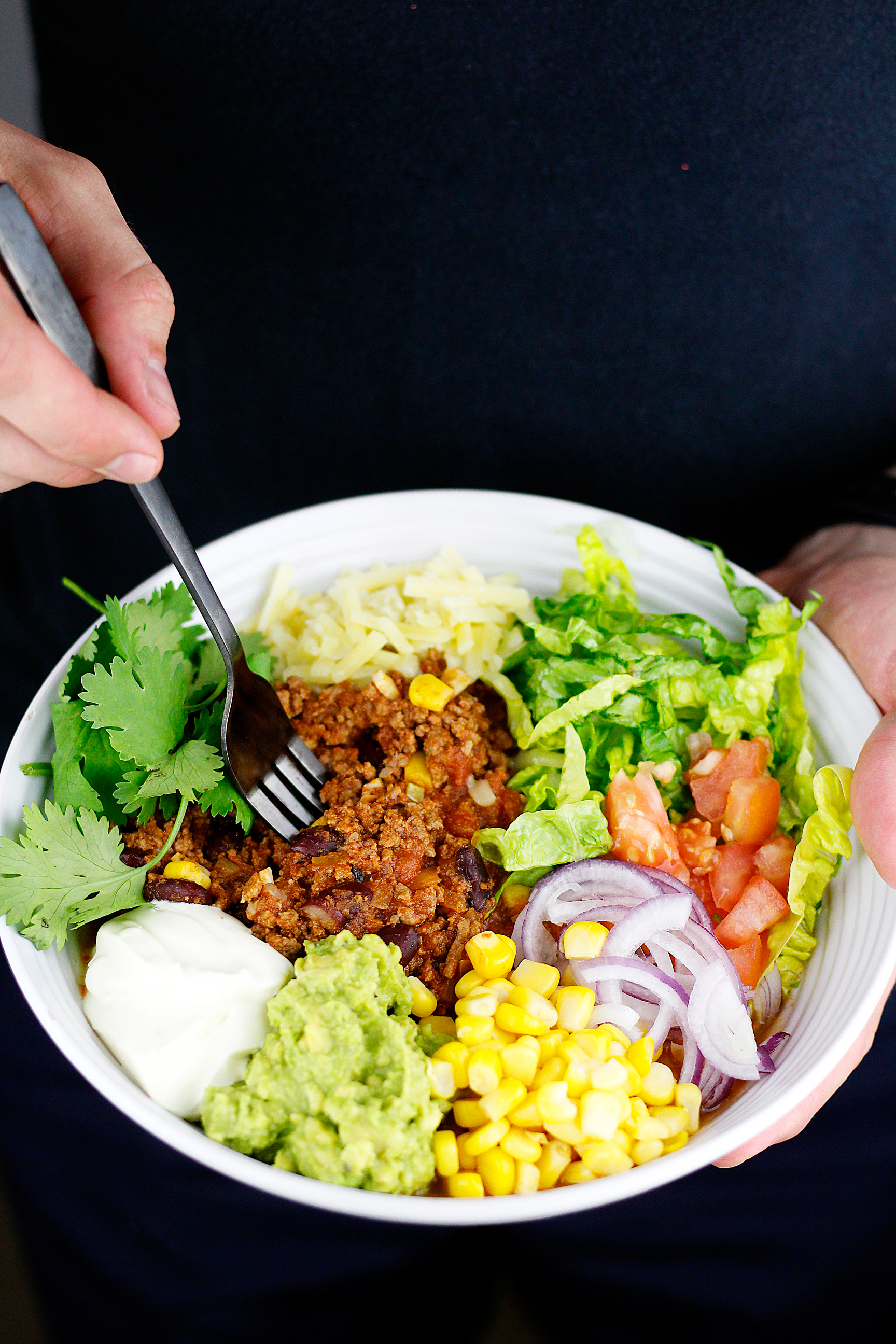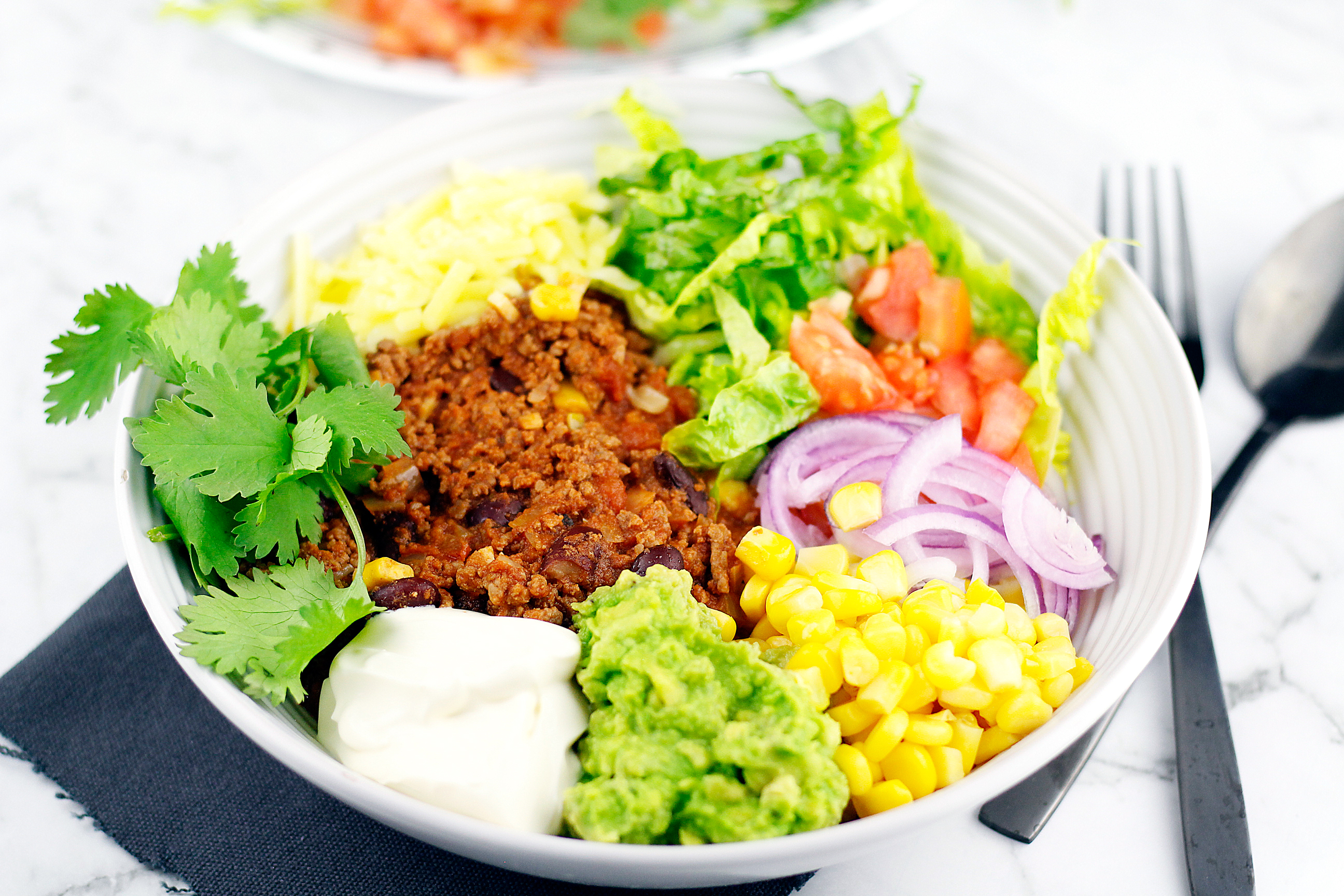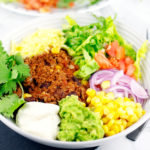 Mexican Chilli Bowl
Ingredients
Mexican Chilli
2

tsp

olive oil

1

brown onion

, diced

2

cloves

garlic

, minced

1/2

tsp

cayenne pepper

2

tsp

ground cumin

1/2

tsp

smoked paprika

1

tsp

ground coriander

500

g

beef mince

400

g

tin of diced tomatoes

2

tbsp

tomato paste

2

tsp

sugar

400

g

tin of red kidney beans

, drained and rinsed

1/2

cup

corn kernels

, fresh, frozen or from a tin
Salad bowl
2

cups

cooked white or brown rice

(optional)

1

baby cos lettuce

, shredded

2

tomatoes

, diced

1/2

cup

corn kernels

, fresh, frozen or from a tin

1

red onion

, thinly sliced

1/2

cup

tasty cheese

, shredded

4

tbsp

Greek yoghurt

1

avocado

, mashed

Handful

of fresh coriander leaves
Instructions
In a pot over a medium heat, add olive oil, onion and garlic and sauté until soft. Add spices and cook for a further 2 minutes until fragrant followed by beef mince and fry until cooked through.

Add in diced tomatoes, tomato paste and sugar and stir. Bring to the boil, and then reduce heat to low. Simmer for 15 minutes. Add in red kidney beans and corn and simmer for a further 5 minutes.

Meanwhile, prepare vegetables while chilli is cooking. To assemble, scoop 1/2 a cup into each serving bowl (if including), and top with 1/4 of the Mexican mince, cheese, vegetables, natural yoghurt and mashed avocado. Top with fresh coriander leaves.
Recipe Notes
If preparing for the following day, store rice and mince separately from salad so you are able to reheat the chilli. If freezing, freeze mince by itself and prepare salad vegetables on the day or store these in the fridge.
---
Let me see all of your food creations and delicious snaps by using the hashtag #eatnik on your photos! 
11