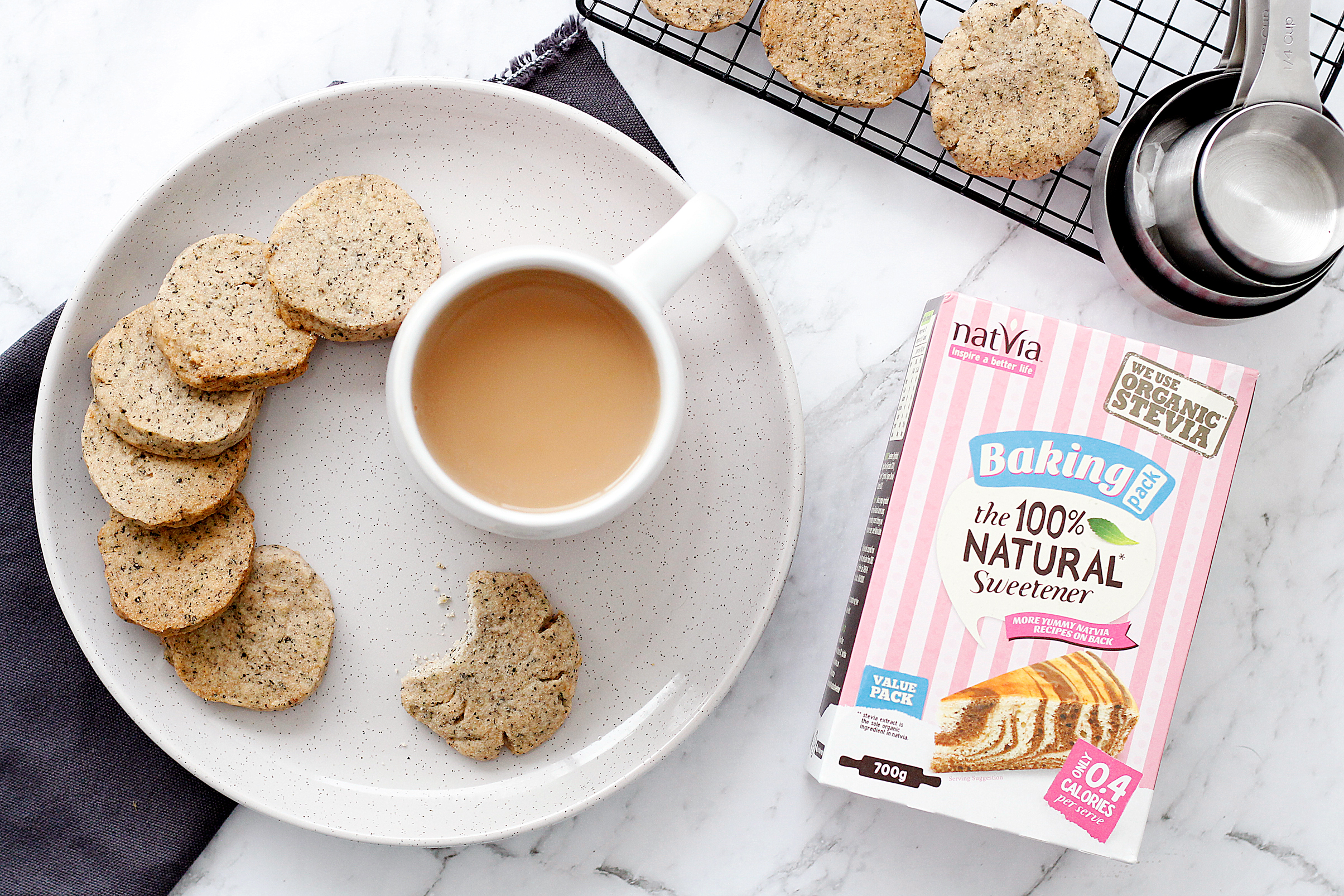 My parents used to brew a pot of earl grey tea every Saturday morning when I was younger. Drinking it regularly enough at home, when I moved out, I bought myself the 100 pack of teabags, as my drinking rate was up to six or so cups per day. Friends and family were aware of my love for earl grey and I started being gifted teabags whenever a birthday or special occasion came up. Before making this recipe, I counted how many earl grey teabags I currently have in my cupboard – 170. Yeah, 170 bags of earl grey tea! As someone who drinks a lot of tea, I have to say, 170 cups is a lot to get through, even for me. So I needed to start using them for other things.
The prominent flavour of earl grey tea is bergamot. Bergamot oil is made from the fruit of a bergamot tree, which is a part of the citrus family. This flavour pairs well with rich-textured foods (like creme brûlée or shortbread) and is complimented by warm spices like cinnamon.
I teamed up with Natvia to make this recipe. Natvia is a stevia sweetener made from 100% natural sources and it is the healthy alternative to artificial sweeteners and sugar that is made with naturally sourced ingredients. A great alternative for those looking to reduce their sugar intake, lose weight, or have been diagnosed with diabetes. Natvia is made from a combination of the stevia plant and a naturally occurring nectar called erythritol. As Natvia is made from natural sources, it doesn't have the chemical taste of other brands of artificial sweetener, and is my sugar-substitute of choice. You can purchase Natvia from all major supermarkets as well as online. Read more about Natvia here.
Enjoy these spiced cookies with a cup of your favourite tea (perhaps even earl grey?).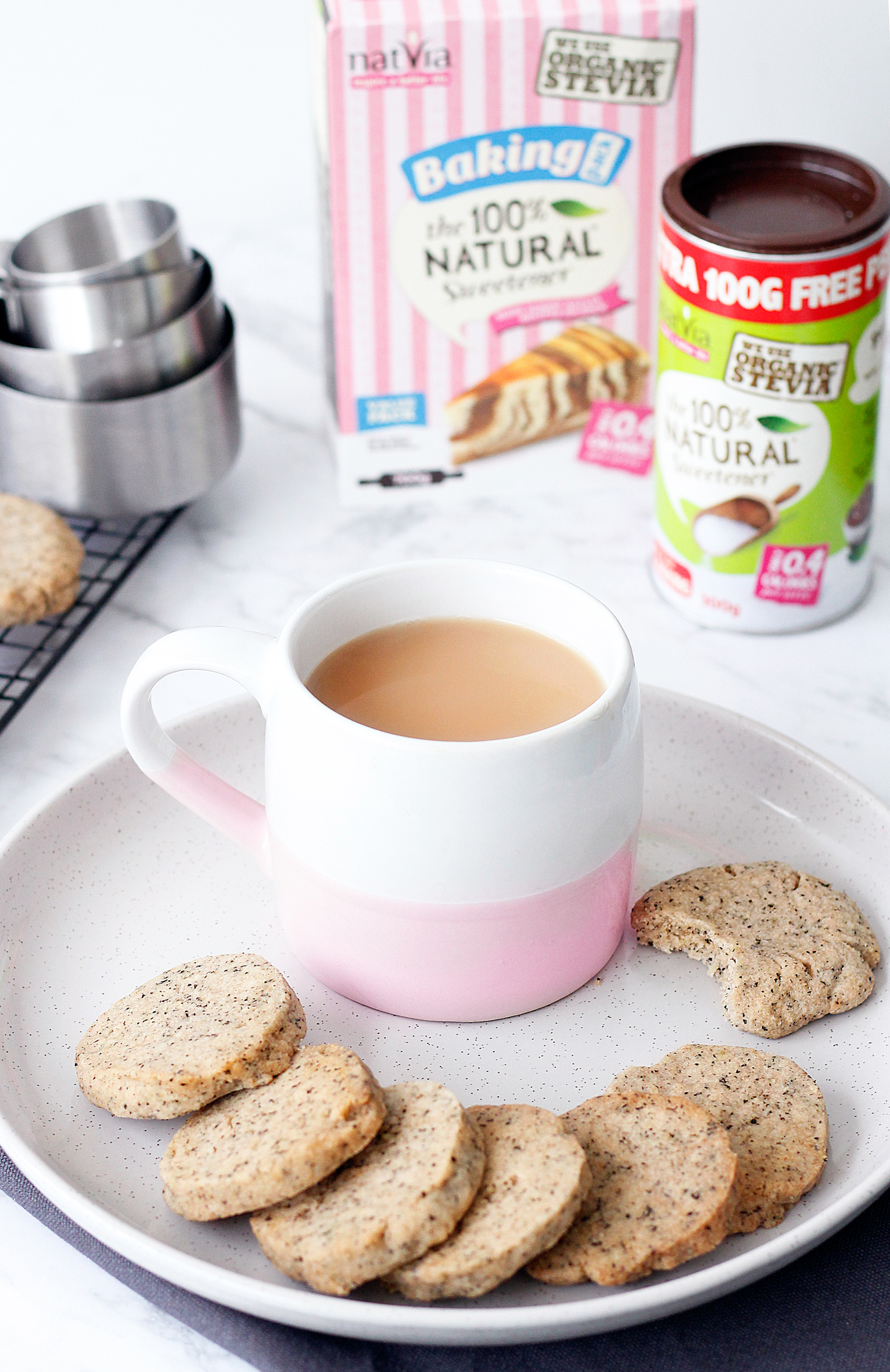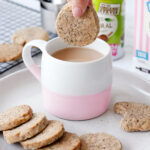 Spiced Earl Grey Cookies
Spiced cookies to enjoy with a hot cup of tea.
Ingredients
1

cup

all purpose flour

1/2

cup

Natvia Sweetener

1

tbsp

earl grey tea leaves

,approximately 3 teabags

1

tsp

ground cinnamon

1/2

tsp

ground nutmeg

1/2

tsp

mixed spice

1/4

tsp

salt

1/2

tsp

vanilla extract

1

tsp

water

1/2

cup

coconut oil

, melted
Instructions
Preheat oven to 180ºC. In a bowl, combine all dry ingredients.

Add vanilla, water and melted coconut oil. Mix until a dough forms. Mold dough into a log, wrap in baking paper and place in the fridge for 10 minutes to chill.

When chilled, slice into rounds. If the dough is too hard, microwave for 10-15 seconds to soften slightly. This will happen if you leave the dough in the fridge for longer than 10 minutes as the coconut oil will set.

Bake for approximately 12 minutes, or until the edges of the cookies are brown.
---
Let me see all of your food creations and delicious snaps by using the hashtag #eatnik on your photos!
4