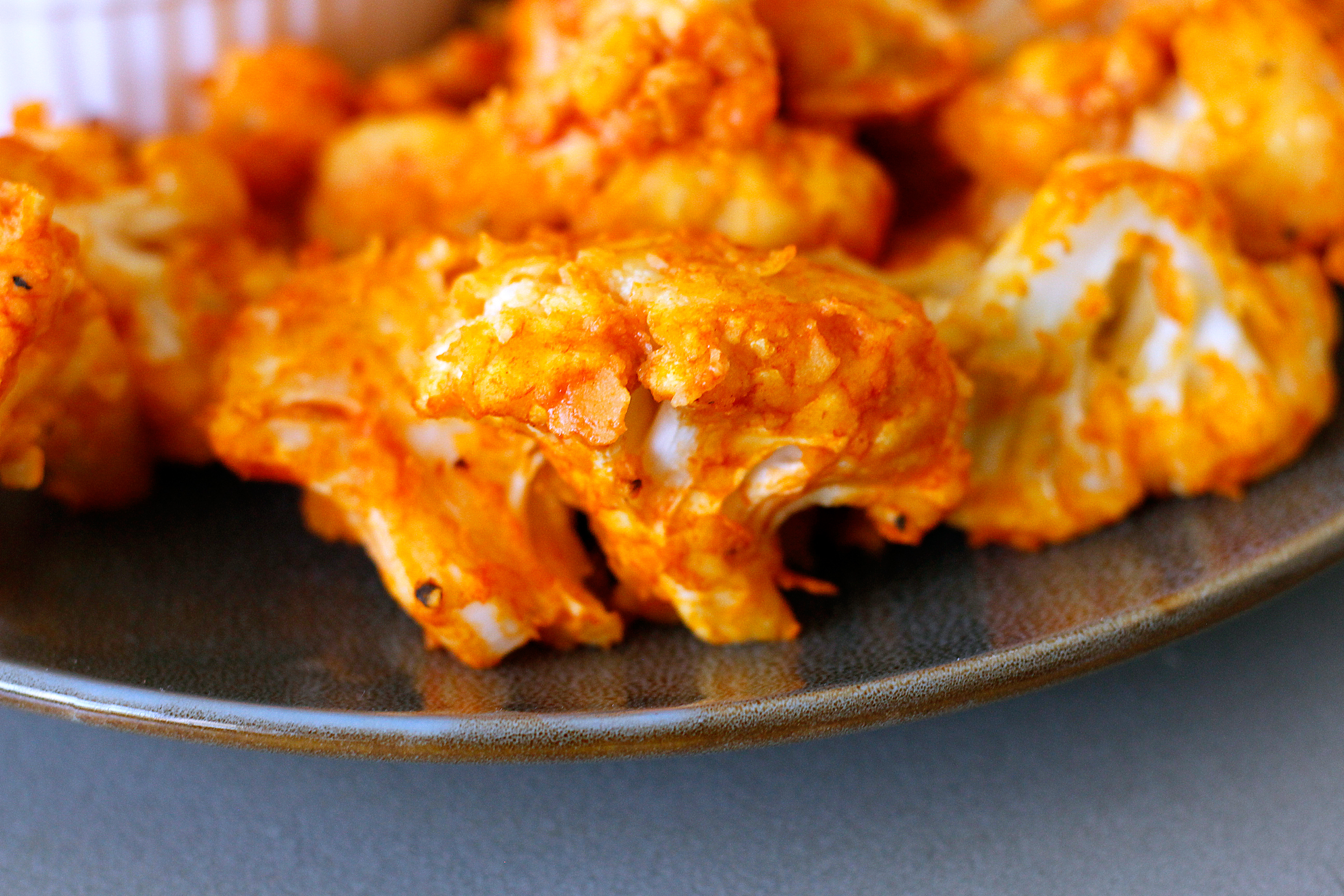 I'm forever looking for ways to increase my vegetable intake. Mostly by making them less boring. I cannot name anyone that craves steamed vegetables, or a plain salad. We are creatures who enjoy bursts of flavour, texture and colour, and usually variety each day.
I've been very interested in making these cauliflower buffalo bites ever since I saw John and Lauren make them on a Hot For Food video once. I think it is such a creative idea, to take an all time favourite (wings) and give it a vegetable spin. Perfect for vegans or vegetarians, or anyone who wants to make their vegetables more exciting (me).
I fallen right off the Youtube bandwagon of late, and I do desperately want to jump back on, although I usually require assistance when filming recipe videos, and I'm also ridiculously self-conscious of the way I look and sound in front of the camera. Stupid, I know. I've got quite a few plans for upcoming videos – whether they make it to my channel is a whole other story. Just yesterday, I tried my hand at filming a recipe video for these cauliflower buffalo bites from the birds eye view and it was a success! Not only was I able to construct a less-than-professional tripod situation so I could film from the top down, but I managed to do it solo, and edit the video so it was under 90 seconds. So guys, great new recipe video idea…simple, easy dishes you can watch  in under a minute and a half. Stay tuned, and subscribe to Eatnik's youtube channel here.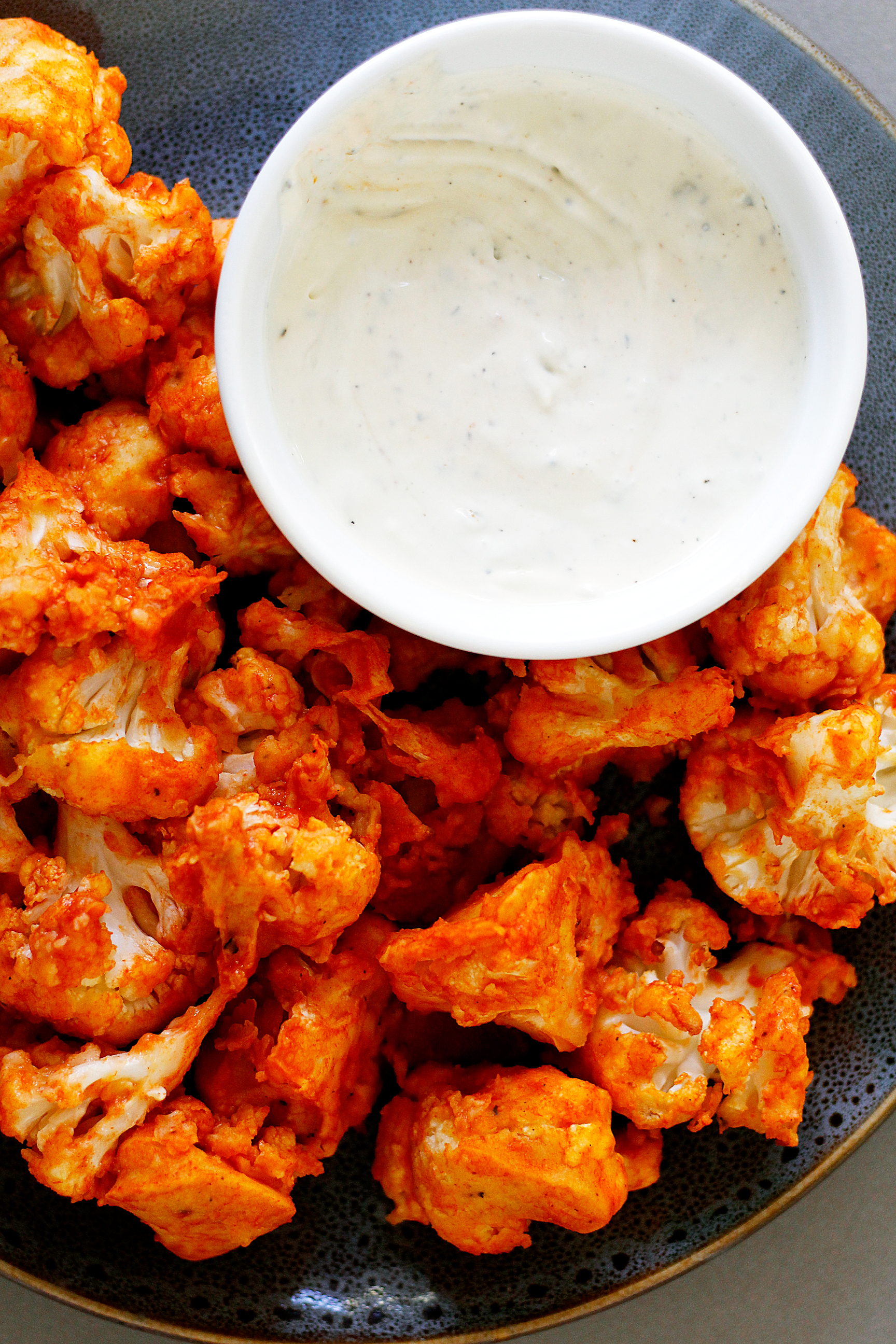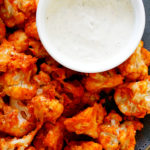 Cauliflower Buffalo Bites
A vegan alternative to the buffalo wing! A great snack for game night.
Ingredients
Half head cauliflower

, chopped into florets

1/2

cup

all purpose flour

1/2

cup

milk

1

tsp

onion powder

1 tsp

tsp

garlic powder

1/2

tsp

paprika

1/4

cup

water

, to thin batter

Pinch of salt and pepper

1

bottle

hot sauce

(approx 150mL)
Instructions
Preheat oven to 200ºC. In a bowl, add flour, milk, onion powder, garlic powder and paprika and whisk to combine. Thin out the batter by adding in water and whisk. Add salt and pepper and whisk again.

Place cauliflower florets into the batter and stir gently to coat. Pour out on to a baking paper-lined tray. Place into the oven for 20-25 minutes, flipping once in between.

In a bowl, pour hot sauce. When cauliflower is ready, remove from the oven and add straight into hot sauce. Toss to coat. Put florets back on to baking tray and bake for a further 10 minutes.

Serve cauliflower buffalo bites with a classic blue cheese dipping sauce or a side to your favourite protein.
Recipe Notes
Gluten free flour or rice flour would also work with this recipe to make it gluten free.
Soy or nut milks can be used as an alternative to cow's milk.
For hot sauce, I used Franks Red Hot 140mL bottle.
---
Let me see all of your food creations and delicious snaps by using the hashtag #eatnik on your photos!
1