I've been slack so far this year, and haven't posted a single thing on this blog in the first four weeks of 2017. I'm blaming the weather! I'm unable to function when the temperature is over 28ºC, and starting from the first day of the new year, it seems to be a sweaty 35ºC+ every other day. So what have I been up to then? Mostly lounging around under fans, going to shopping centres to lap up their free air-con and complaining about the heat to anyone that would listen. Nothing worth blogging about really.
Today was wonderfully overcast and dreary – my favourite weather to be in the kitchen. I've been intending to make ricotta and blueberry pancakes for such a long time, but the temperature has made it impossible for me to do anything that involves heat and the stove. The moment I had a spare day, and the mercury on the thermometer hovered below that 30ºC mark, the flour and eggs were out, and the fry pan was heating.
I love pancakes, as much as the next person I suppose, but what takes a pancake to the next level is it's fluffiness. You can't go past a warm, fluffy pancake, and if it contains ricotta and the odd burst of blueberry…well I'm not complaining. This recipe is pretty fail safe, the use of self-raising flour (which conveniently has the baking powder already blended in) as well as the incorporation of cushiony egg whites gives you the ultimate Sunday breakfast (or brunch, or afternoon tea, or dinner really) meal. These pancakes are not overly sweet either, which I enjoy, as I means I feel slightly less guilty loading it with maple syrup prior to stuffing my face.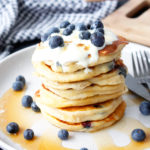 Ricotta & Blueberry Pancakes
Perfect for Sunday breakfast.
Ingredients
1

cup

ricotta

, smooth or regular

1

cup

self-raising flour

1 1/2

tbsp

castor sugar

Pinch of salt

3/4

cup

milk

1

tsp

vanilla extract

2

eggs

separated

1/4

tsp

ground cinnamon

1

cup

blueberries

, plus extra for serving

Greek yoghurt

, to serve

Maple syrup

, to serve
Instructions
In a large bowl, combine the ricotta, milk, vanilla, cinnamon and egg yolks, whisking to combine. In a separate bowl, mix together the self-raising flour, castor sugar and salt. Once combined, add the dry mix to the wet. Stir gently.


Add blueberries to the batter and stir through. Using a mixer, or by hand, whisk egg whites until stiff peaks form. Fold gently through pancake batter, ensuring it remains as fluffy as possible.

Preheat your pan over a medium-high heat. Spray lightly with oil. When oil has become transparent, scoop batter into pan using a 1/3 cup measure. Cook for 3-4 minutes, or until small bubbles start to appear, and flip to the other side. Once second side is golden, place cooked pancake on a plate lined with paper towel. Repeat with remaining batter.

To serve, stack up your pancakes, scoop a dollop of Greek yoghurt on top, followed by a sprinkle of fresh blueberries and a drizzle of maple syrup. Serve warm.
Recipe Notes
Frozen or canned blueberries would also work in this recipe. Strain away any extra liquids before adding the berries to the batter.
This recipe would also work well with any other berry, or even bananas or apples.
---
Let me see all of your food creations and delicious snaps by using the hashtag #eatnik on your photos!
1