When I was younger, adults would throw around the old "time just flies by when you're older!" anytime we moaned about our desperation to just grow up. I always thought, I don't know, life seems pretty darn long to me, and I could not wait to be 18, or 25 or 30, because those were the years where all my shit would be sorted, and I'd have my life together. Probably own a couple of houses, be very much into painting and drink many a glass of cab sav of an evening.
Now that I am actually in my mid-20's, my life hasn't turned out as expected, and I don't yet own any property, nor can I paint. I do drink cab sav though. So I guess that worked out for me. I have become one of those adults that sits down with anyone of a younger age and says "how quickly has this year just flown by?" with an expression of shock on my face with a subtle twinge of confusion because wtf how am I now 25? I think that the mid-20's stage of life is that weird age where you are actually a proper adult but you just don't feel it/won't accept it. At least it is for me. I mean, I really enjoy cheese platters but I also think dabbing is great. I still snigger when I see the number '69', and yet drinking tea literally makes me excited.
Anyway, that long-winded waffle is all because I cannot believe Christmas is around the corner. Where did 2016 go? I feel like I only remember single slivers of moments of this year. The rest is a blur. At this time of year, I always feel happy and festive – Christmas just brings out the best in people. Maybe because you couldn't possibly feel all that down when you're surrounded by coloured lights, friends and family, and of course, truckloads of really delicious food. Generally I'm pretty unorganised with Christmas, as I always overestimate the amount of time I have to purchase presents and eat festive treats. This year, with all the wooshing by of months and what not, I've decided to make seasonal foods much earlier than I usually do, so I can enjoy them for the most amount of time. Not that you can't eat sticky glazed ham and warm pudding at any time of year…but it's not really the same.
So here we are. Gingerbread has got to be one of my favourite flavours of Christmas, but to be honest, I love anything spiced (biscuits, egg nog, wine, nuts etc.). The other night I went to a Christmas potluck dinner with some friends and I had the BEST gingerbread biscuits I've had in a while, and now I'm all inspired to get into the festive baking. This spiced gingerbread loaf is a bit of a take on the classic gingerbread biscuit. It's spicy, squishy and fragrant, and goes perfectly with tea.
This recipe was adapted from The Brick Kitchen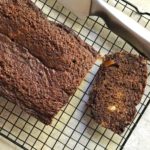 Spiced Gingerbread Loaf
This spiced gingerbread loaf is a bit of a take on the classic gingerbread biscuit. It's spicy, squishy and fragrant, and goes perfectly with tea.
Cook Time
1
hour
15
minutes
Total Time
1
hour
30
minutes
Ingredients
100

g

ginger

, minced

150

g

castor sugar

200

g

coconut oil

250

g

molasses

2

tsp

baking soda

225

mL

boiling water

300

g

all purpose flour

1

tbsp

ground ginger

2

tsp

cinnamon

2

eggs

, lightly beaten

80

g

crystallised ginger

, chopped
Instructions
Preheat your oven to 180ºC. Line a loaf tin with baking paper.

In a bowl, whisk together the sugar, coconut oil and molasses. In a smaller bowl, combine the boiling water with baking soda. Allow it to dissolve before adding it into the sugar and oil mixture. Whisk everything to combine – it should bubble up.

Add the fresh ginger and whisk to combine.

Sift over the flour, ground ginger, cinnamon and cloves and stir to just combine. Do not overwork your batter.

Add the lightly beaten eggs and stir to combine. Finally, fold in the chopping crystallised ginger. Pour everything into your prepared tin and bake for one hour and 15 minutes or until a skewer comes out clean.

Allow to cool in the tin for 15 minutes before placing on a wire rack to cool.
---
Let me see all of your food creations and delicious snaps by using the hashtag #eatnik on your photos!
0