Continuing on with the theme of exciting salads, I've got another recipe for you that shows just how exciting salads can be, and how far you can be from the boring lettuce-tomato-cucumber combo that makes our noses crinkle in distaste.
I've made my own salad builder resource, that I distribute to my clients who need a little more guidance on how to put together a tasty dish. Feel free to download it, print it, and stick it on your fridge for inspiration when you're in the kitchen!
I made this Moroccan Carrot and Quinoa Salad for the group of ladies attending the first Retreat Yourself held at Coochimudlo Island on November 11-13 2016. A three day retreat involving crafts, yoga, pilates and group fitness, I was asked by my friends to create a selection of healthy, vegetarian dishes for the length of the event.
What's so great about this salad?
It contains quinoa: high in protein, contains all nine essential amino acids, contains fibre, magnesium, B-vitamins, calcium, phosphorus and is gluten free (perfect for those with gluten intolerance, or coeliac disease)
It uses carrots: a great source of fibre and beta-carotene, as well as Vitamin A, C, K and B8.
It has pistachios: a great source of unsaturated fat, protein, thiamine, phosphorus and magnesium.
It combines a variety of flavours, colours and textures: I utilised herbs and spices in this recipe to boost the overall flavour, as well as crunchy nuts, salty cheese, chewy dates and soft quinoa. These components make salads interesting!
It tastes great: if I do say so myself 🙂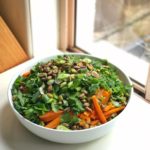 Moroccan Carrot & Quinoa Salad
A flavoursome salad packed full of protein, fibre and healthy fats!
Ingredients
750

g

carrots

, peeled and chopped into sticks

800

g

chickpeas

, drained and rinsed

1 1/2

cups

dried dates

, chopped roughly

4

spring onions

, chopped

1

cup

fresh coriander

, roughly chopped

1 1/2

cups

quinoa

, cooked and chilled

1/2

cup

roasted pistachios

, shelled

Zest and juice of 2 limes

4

tbsp

olive oil

2 1/2

tsp

ground cumin

3/4

tsp

ground nutmeg

3/4

tsp

turmeric

1

tsp

chilli flakes or powder

2

tsp

honey

Salt and black pepper

, to taste

3/4

cup

crumbled feta or goats cheese
Instructions
Preheat your oven to 180ºC. Place carrots on the tray and drizzle with two tablespoons of the olive oil. Sprinkle with half of the cumin and roast for approximately 20 minutes, or until the carrots are soft. Remove from the oven and drizzle lightly with one teaspoon of honey, before setting aside and allowing to cool.

Meanwhile, in a large serving bowl, combine cooked and chilled quinoa, chopped dates and chickpeas. When carrots have cooled, place on top of the quinoa mix, along with chopped spring onions, coriander and the pistachio nuts.

To make the dressing, add the remaining olive oil, zest and juice of limes, remaining ground cumin, nutmeg, turmeric, chilli flakes, remaining honey and salt and pepper in a jar. Close lid and shake to combine.

Before serving, sprinkle feta cheese over the top of the salad, along with the dressing and toss everything together.

Recipe Notes
This salad is perfect on its own for lunch, or can be served alongside a piece of protein as a side dish.
You could replace the quinoa with couscous (which I have tried and tested and can confirm that the salad still tastes great), however the addition of couscous would mean that the salad is no longer gluten free.
Make this salad a day in advance – keep it covered and refrigerated and just add the cheese and dressing right before serving.
---
Let me see all of your food creations and delicious snaps by using the hashtag #eatnik on your photos!
0