For me, the best thing about warmer weather and the approaching summer season is my sudden craving for salads. I do try and eat my vegetables all year round of course, but in winter, the urge to eat a large bowl of pasta, or a soul-warming stew with mashed potato is much stronger than a plate of greens. As someone who is so easily affected by the heat (basically, I am sweaty and grumpy all day everyday for the entire three months), leaning towards steaming hot food does not appeal to me that much. So salads it is!
I have always said that vegetables are a blank canvas, and often require a little bit more creativity and imagination to transform, than meat does. While it is appealing to simply season a piece of meat and cook it, this simplicity doesn't always get the taste buds watering if you were to do the same with vegetables. It doesn't help that when most people think of salads, they think of some lettuce, cucumber and tomato tossed together and thrown on a plate. If this is your only idea of salads, I can understand why you wouldn't be all that excited to increase your vegetable intake!
I found that I enjoyed the salads that I purchased at salad bars or cafes much more than the salads I created for myself at home. I realised, that the reason for this is the fact that the salads created at these places were often exciting, full of different colours and textures and topped with a delicious dressing. So I thought, why not build my salads in a similar way? Colours and textures can not only be representative of different food groups, but also provide your body with a variety of different macro- and micronutrients, vitamins, minerals, phytochemicals, and antioxidants. Plus, they make every mouthful more enjoyable!
I love this salad building graphic from one of my favourite blogs, Hello Glow. Use their no-fail formula to guide you to building a great salad.
To get you started, here is a salad I've really been enjoying recently. This salad has your chicken breast cooked in a poaching liquid of coconut milk, flavoured with other Asian-style ingredients. Chicken breast is a great source of lean protein, and using a poaching method to cook rather than frying or roasting means you don't have to add extra fats or oils to the meat. Poaching is quite a gentle way of cooking, and helps retain the moisture in the meat.
Just a quick side note – when I created this salad and took photos, I completely forgot to add the chilli in before I ate it all! So that is why there is a lack of pretty red speckles in the picture!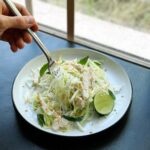 Poached Coconut Chicken Salad
An Asian-style salad with poached coconut chicken.
Ingredients
500

g

chicken breast

400

g

low fat coconut milk

Juice from 1 lime

1

tbsp

fish sauce

1/2

tbsp

soy sauce

100

g

vermicelli noodles

cooked and cooled

1/2

continental cucumber

deseeded and sliced

1/4

wombok or ice berg lettuce

, shredded

1

cup

mint leaves

1

red chilli

, deseeded and finely chopped

2

cups

bean sprouts

1

tsp

palm sugar

, grated finely

1/3

cup

roasted peanuts

, chopped
Instructions
In a saucepan, add chicken breast, coconut milk, lime juice, fish sauce and soy sauce. Bring to a simmer over medium heat, before turning heat down low. Cook chicken for approximately 10-15 minutes. Remove from liquid and set aside to cool. Reserve half a cup of liquid for dressing. Whisk in one teaspoon of palm sugar and set aside to cool.

Meanwhile, in a large bowl, combine cooled vermicelli noodles, cucumber, wombok or lettuce, mint leaves, chilli and bean sprouts and toss together.

When chicken has cooled slightly, chop roughly, or pull with a fork to create shreds. Add chicken to other ingredients, along with chopped peanuts and toss together.

Pour dressing on top of salad, toss for a final time and serve.
Recipe Notes
Taste the dressing before pouring on to salad, and add more fish sauce or lime juice if you would like a more intense flavour.
Red chilli flakes could be substituted for fresh chilli.
Other vegetables, such as julienned carrots or thinly sliced capsicum would also be suitable additions to this salad, as well as coriander.
To enhance the flavours of your poaching liquid, ginger and lemongrass would work perfectly with the other ingredients.
---
Let me see all of your food creations and delicious snaps by using the hashtag #eatnik on your photos!
0