For me, there is a constant battle between wanting to sleep in for an extra half an hour, or getting up and having breakfast. I see the value in having breakfast every morning, but I also really love sleeping, so making a habit of preparing my meals the day or night before provides me with the best of both worlds.
Creating meals that will stay fresh and tasty after several hours sitting in my fridge isn't too hard, you just need to rethink your meal options a little. For lunches or dinner, where you might choose to eat a sandwich or salad, all you need to consider is separating  your wet and dry ingredients to avoid your meal becoming soggy. Tomatoes in particular, are best kept in a separate container, only to be place on your sandwich right before you consume, unless you can squeeze the tomato slices between lettuce and meat to prevent it from touching the bread. Similarly, any dressings should be tossed through your salad shortly before you sit down for lunch to avoid slightly soggy veges.
To avoid having to prepare a meal altogether, cook an extra portion or two at dinner the night before, and use those leftovers as your lunch for the next few days. Frozen vegetables are a great addition to a left over meal, regardless of whether it has been kept refrigerated or in the freezer. Simply add the frozen vegetables in (still in their frozen state is fine) and take to work or university. If the vegetables slowly melt over a few hours, the extra water works well to revive chilled rice or other grains, which can sometimes dry out after a long stint in the cold. Throw the entire meal straight into a microwave and you have a proper hot meal during the day.
For chopped pieces of fruit, you are likely to come across some oxidation on the cut side of the fruit, causing it to go brown. According to the Scientific American, 'when oxygen is present in cells, polyphenol oxidase (PPO) enzymes in the chloroplasts rapidly oxidize phenolic compounds naturally present in the apple tissues to o-quinones, colorless precursors to brown-colored secondary products' [1]. Good news is, brown apples (or other fruits with oxidation) are perfectly safe to eat, if you can look past the brown colour. If not, soak your apple slices in a little salt water, and then rinse to remove the salty taste, before placing your fruit in the fridge.
For mid-meal snacking, anything foods that don't need refrigeration are perfect for prepping – simply portion them out correctly for easy grab-and-go. If you do have access to a fridge at work, snacks like dips, yoghurt and cheese are tasty and nutritious options as well.
For a pre-prepared breakfast that you can quickly snatch up when you're on the go, a number of thins should be considered. Options like toast or a fried egg aren't the best when they're made the night before. Here are some great breakfast choices that work just as well eaten fresh or prepared in advance:
A couple of boiled eggs with some rice cakes and a quarter of an avocado
Bircher muesli with nuts, seeds and fruits can be made into a big batch and then portioned across the working week
Smoothies are able to be made the night before, given a shake up in the morning and taken with you to work or university
Porridge that has been pre-cooked and frozen into a muffin tin – simply keep two pieces in a ziplock bag for travel, throw into a bowl and work and microwave till warm
Chia pudding is one of my go-to breakfast options when I know that I will be busy (or am going to want to sleep in) the following day. The chia seeds soak up whatever liquid they are placed in, and become thick and gelatinous. Chia seeds are a great source of plant-based protein, and are full of fibre, omega 3 fatty acids, calcium, magnesium, phosphorus, zinc and potassium, among other nutrients. Chia seeds are also gluten free, if you are gluten intolerant, or have coeliac disease.
If you're a textural person, chia pudding may take a little getting used to. It's quite similar to a sago or tapioca dessert. You are free to be as creative as you want to be with this recipe, for a basic pudding, you only need the chia seeds and some kind of liquid. I prefer to use a milk (either cows milk, or a dairy alternative like soy, almond or other nut milks) as these will provide you with added nutrients (like calcium), as well as some extra protein, however using a tea, plain water or coconut water works perfectly fine. You can mix your pudding with other ingredients like oats, shredded coconut or quinoa flakes to add different flavours and textures. I often add a little bit of honey or maple syrup to give my pudding some sweetness, however this can be omitted. Toppings can vary from different types of fruit, seeds or nuts. You're free to be as creative as you like!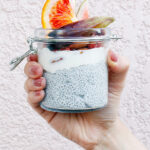 Chia Pudding
An easy breakfast or snack you can prepare in advance to ensure you have a healthy, wholesome meal the following day.
Ingredients
1/4

cup

chia seeds

2

tbsp

low fat Greek yoghurt

3/4

cup

almond & coconut milk

1/2

tsp

vanilla extract

1

tsp

honey

Fruits and nuts to top
Instructions
In a small bowl, combine the chia seeds with the yoghurt, milk, vanilla and honey and whisk to combine.

Place into the fridge for 30-60 minutes. Give the pudding a quick stir half way through the chill time to remove any lumps.

Portion out the pudding on to a plate, or in a jar or container (if preparing for the following day) and top with fruit and nuts.
Recipe Notes
The pudding ingredients can be put together in the container or jar that you are going to eat it out of the following day – just be sure to still stir it in between it's initial chill time.
---
Subscribe to the eatnik Youtube channel here.
Let me see all of your food creations and delicious snaps by using the hashtag #eatnik on your photos!
---
[1] McLandsborough, L. Why do apple slices turn brown after being cut? Scientific American. Retried from: http://www.scientificamerican.com/article/experts-why-cut-apples-turn-brown/
0