Almost all of us want to eat more vegetables. The Australian Dietary Guidelines recommends five serves per day – but this is actually a minimum recommendation. You could eat 50 serves of vegetables if you wish! But how do you include more vegetables into your diet, if you really don't like them? I don't think forcing yourself to eat a plain salad, or boiled vegetables is the answer, and definitely doesn't encourage you to eat more.
This is a common question I get in my clinics, and I usually encourage people to think of ways to transform vegetables into a meal or side dish that they want to eat. Vegetables are a blank canvas that can be spruced up with dressings, condiments and other ingredients – all you need is a little creativity!
This question also inspired me to get my ass into gear and finally start the eatnik Youtube channel. As something I've been planning on doing for a long time – talking on camera is something I am not so comfortable with (which you'll be able to tell if you watch the video), though I hope as I release regular videos on the channel, this will become much easier. Personally, I love watching cooking demonstrations, regardless of the medium, as I feel watching food being cooked right in front of you gives you a much better overview of the finished product. Videos are so popular these days, and I love cooking and creating new and exciting recipes, so I thought, why not put all those things together and jump on to Youtube.
If you like my first video, I would really appreciate if you could give the videos a thumbs up, and hit the subscribe button to my channel! Also, any feedback (in the comments, or direct) is much appreciated! I am a newbie at both filming and editing, so any constructive criticism is welcome.
This recipe has been one of my go-to salads of late, simply because of how easy it is. With minimal ingredients, you can whip this up in no time, but the different textures and pesto dressing make for something a lot tastier than your regular old chopped up salad.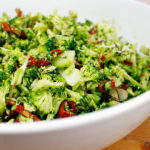 Pesto Broccoli Salad
Ingredients
1

head

broccoli

1/3

cup

sundried tomatoes

, roughly chopped

1/3

cup

slivered almonds

2

tsp

chilli flakes

2

tbsp

basil pesto

1

tbsp

water
Instructions
Chop the head of broccoli into smaller florets, before roughly chopping into chunks. Alternatively, throw the florets into a food processor and blitz. The size of the broccoli in this recipe is up to you – if you prefer a more 'tabouli-style' salad, blitz into a small crumb. I enjoy this salad a little chunkier. Place your broccoli into a large serving bowl.

Add in roughly chopped sundried tomatoes or cherry tomatoes, slivered almonds and chilli flakes. Toss to combine all ingredients.

For the dressing, place pesto into a small bowl or jar and add water bit by bit while whisking. Add water until you have reached your desired consistency – the dressing should be able to coat the salad, so make sure you don't make it too thin.

Pour the dressing over the top of the salad and toss lightly to coat all ingredients. Spoon salad on to plates with a piece of protein, or add shredded chicken, egg or tofu straight to the salad to make this dish into a meal.
Recipe Notes
For a creamier dressing, mix pesto with evaporated milk, or cashew cream rather than water.
---
Subscribe to the eatnik Youtube channel here.
Let me see all of your food creations and delicious snaps by using the hashtag #eatnik on your photos!
0