Ice cream lovers rejoice, for now there is a delicious iced dessert that boasts a nutritional profile better than half the shelf in the health food section of your local supermarket.
Fro Pro – The Fit Scoop has revolutionised one of the world's favourite desserts, and is available on the market as the only 99% sugar free, high protein, natural ice cream. In fact, a single serve comes in at only 298kJ (71kcal), in comparison with regular ice cream at 574kJ (137kcal)*. Fro Pro is low fat, has a low glycaemic index and is suitable for coeliacs or the gluten-sensitive, as all products are gluten free.
Matcha powder has become an increasingly popular ingredient of late, with matcha flavoured sweets, puddings and drinks being produced by anyone and everyone – from top chefs to your local Starbucks. I myself have succumbed to the matcha craze, and can't go past a bright green dessert or beverage whenever I see one on the menu. Surprising to some, matcha powder is available at most Asian grocers in Australia, and at a very affordable price, making your experimental matcha recipes only a purchase away.
Matcha green tea powder is very different from regular green tea. To make the tea, leaves are soaked in hot water and then discarded. However with matcha powder, you are actually consuming the entire leaf, which has been ground up to a very fine dust.
Matcha powder has a higher concentration of antioxidants, and higher levels of caffeine in comparison to green tea leaves. In fact, a single cup of matcha is equivalent to approximately three cups of regular green tea. There has been research that indicates that the consumption of green tea has been shown to be beneficial in improving overall total cholesterol, LDL cholesterol, triglycerides and blood glucose levels – some of which are common risk factors for heart disease and other chronic illnesses [1].
While there has been a small number of studies investigating the relationship between green tea and metabolism, nothing yet has provided results which could be considered significant.
With all that nutritional information aside, this recipe sure does make one tasty drink guaranteed to satisfy anyone with a love of matcha!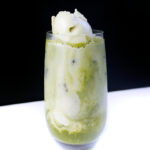 Iced Matcha Latte
Ingredients
1/2

tbsp

green tea matcha powder

1

tsp

sweetener

(optional)

1 1/2

tbsp

boiling water

250

mL

milk

1-2

scoops

Fro Pro Green Tea & Mint ice cream

Handful ice
Instructions
In a small jug, whisk together matcha powder and sweetener (if using) with boiling water until powder has completely dissolved and is lump-free. 2. Transfer this into a drinking glass of your choice

Add one scoop of Fro Pro Green Tea & Mint ice cream, before filling the glass up with the desired amount of ice.

Top up with milk and stir drink to distribute matcha evenly. Add another scoop of Fro Pro on top if you'd like!
Recipe Notes
I used vanilla soy milk when making my own iced matcha latte. This milk is already slightly sweeter, therefore I omitted the sweetener. Alternatively, if you enjoy drinks with minimal sweetness, or prefer the natural taste of matcha, omitting the sweetener in this drink is appropriate.
Change up the flavours slightly by adding a scoop of Fro Pro's chocolate ice cream instead of the Green Tea & Mint!
---
To find out more about Fro Pro – The Fit Scoop, and your local stockists, click here.
*Fro Pro's serving size is 70g, and thus kJ/kcal comparison was made using a 70g scoop of regular ice cream.
Let me see all of your food creations and delicious snaps by using the hashtag #eatnik on your photos!
---
[1] Bjarnadottir, A. (2015). Matcha – even more powerful than regular green tea?. Authority Nutrition. Retrieved from: https://authoritynutrition.com/matcha-green-tea/
0