I'm forever looking for quick and easy ideas for lunch. I get food fatigue way too easily. That is, if I have the same thing too many days in a row, I just go right off it. They say variety is the spice of life, and for me that is 100% true. While it is pleasant having sandwiches or salads for your midday meal while at work, often I crave something a little more inspiring. Something to break up the blah of the day; to get excited for. I've now found out what that something is – meatballs.
I can say with confidence that meatballs are one of the easiest things to make. Hardly in need of instructions: basically throw everything into a large bowl, mix it around and ball it right up. It's as simple as that. Meatballs also allow you to be creative. Spice that meat up with variety of herbs, spices, condiments and other flavourings to go with whatever cuisine your heart desires. Italian meatballs are definitely a go-to, but adding in popular Asian seasonings is my favourite way.  I've also come to realise that grilling your meatballs is not only healthier (as you're not adding any extra oil), but much less work. No standing over the stove with your tongs in hand, flipping meatballs every few minutes to ensure an even cook. Just whack 'em on to a tray and in 20 minutes (with a flip in between), they're done and you're getting ready to eat.
Miso is a Japanese seasoning made from fermenting soybeans with salt and koji – a type of fungus [1]. Grains such as barley, rice or buckwheat are often used during the fermentation process to achieve a desired flavour or colour, which often comes in the form of a thick paste [2]. Miso is high in protein and fibre, as well as other vitamins, minerals and phytonutrients, such as Vitamin K, maganese and copper [1]. One of my favourite seasonings to use, you can create the popular Japanese miso soup simply by adding the paste to hot water. A versatile ingredient, miso is used in modern cookery to flavour butters, in sticky glazes for meat and fish, or even as a salty addition to many desserts.
For this recipe, I used organic chicken breast from Inglewood Farms, Australia's leading producer of organic, free range chicken. Inglewood Farms use strict certified organic farming methods, where the birds are able to forage freely on grass, enjoying the air and sunshine, just as nature intended. With happier, healthier chickens comes superior quality meat in both taste and texture.
I also sourced several of my condiments from Spiral Foods, Australia's leading provider of traditional foods, with an emphasis on organic products. Spiral Foods are passionate about slowing the unnecessary changes that are being made to our earth, climate and oceans, and choose to stock products from producers with similar values.
This recipe was developed in collaboration with Australian Organic.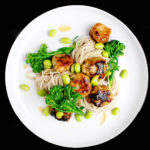 Honey Miso Meatballs with Soba Noodles
Ingredients
Meatballs
500

g

Inglewood Farms chicken mince

3

tsp

Spiral Foods organic miso paste

*1

clove

garlic

, minced

*2

cm

ginger

, minced

*2

stalks

spring onion

, finely chopped

*2

tsp

honey

*

Black pepper to taste
Soba Noodle Salad
100

g

Spiral Foods organic soba noodles

60

mL

mirin

60

mL

rice wine vinegar

1

tsp

Spiral Foods organic miso paste

1/2

tsp

Spiral Foods organic tamari

*2

tsp

honey

*1/2

tbsp

sesame oil

*1/2

tsp

ginger

, minced

*1

cup

frozen edamame beans

, cooked and shelled

*1

bunch

broccolini

, blanched
Instructions
In a large bowl, mix together the chicken mince, miso paste, garlic, ginger, spring onions, honey and pepper until all ingredients are well combined. Cover with plastic wrap and place in the fridge overnight, or for a minimum of 2hrs, until the mince mixture is firm and pliable.

Roll meatballs into balls and place on a baking paper-lined tray. Using two fingers, press down each ball to flatten slightly. Preheat your barbeque or grill, and cook meatballs for approximately 20 minutes, turning once in between. Cover with aluminium foil to keep warm while you prepare the soba salad.

Cook soba noodles according to package instructions. For the dressing, place miso paste, tamari, honey, sesame oil and ginger in a small jar, screw on the lid and shake to emulsify. Alternatively, add all dressing ingredients a bowl, and whisk vigorously.

Pour dressing over soba noodles and toss to disperse evenly. Twirl soba noodles on to your serving dish. Pile on edamame beans and broccolini before adding your desired amount of meatballs. Serve. Dish can be enjoyed either hot or cold.
---
*Denotes ingredients that can be sourced certified organic. Not sure where to find Australian Certified Organic ingredients? Go here.
This recipe is part of the Australian Organic Endorsed recipe campaign
Read more about Inglewood Farms here. Locate a store near you that stocks Inglewood Farm products here.
Read more about Spiral foods here.
Let me see all of your food creations and delicious snaps by using the hashtag #eatnik on your photos!
---
[1] Palsdottir, H. (2015). 11 probiotic foods that are super healthy. Authority Nutrition. Retrieved from: https://authoritynutrition.com/11-super-healthy-probiotic-foods/
[2] Miso. The World's Healthiest Foods. Retrieved from: http://www.whfoods.com/genpage.php?tname=foodspice&dbid=114
0