While it may not grace the top of your shopping list right now, offal can be a great addition to your diet. Full of vitamins, minerals and nutrients, often it is just the idea of consuming offal that puts people off.
For some reason, offal is not popular in Australia. Many of our Asian and European neighbours utilise all parts of the animal for a variety of delicacies, including sheep eyeball skewers, barbequed beef diaphragms and crumbed lamb brains.  While these dishes are a undeniably on the extreme end for a country of people that lust over the meat and three veg main, something like pâté is a much gentler place to begin your love of variety meats.  Homemade pâté is a great way to use chicken livers, and in my opinion, a much less confronting way to eat them – if you're new to this type of ingredient.
Livers are an excellent source of high quality protein, Vitamin B-12, iron, folate, and copper as well as a concentrated source of Vitamin A. The variety of nutrients in liver boosts the immune system, improves the production of red blood cells and supports healthy eyes and skin.
The Australian poultry industry has come under much scrutiny in the past, with the welfare of the bird being the primary concern. According to an investigation conducted by the Animal Liberation NSW, chickens are the largest number of intensively farmed animals in this country, yet have the shortest life span of all animals in meat production [1]. It is not unusual to find 40 000 chickens crammed into a 150x15m shed, in total confinement [1].
For this recipe, I used organic chicken livers from Inglewood Farms, Australia's leading producer of organic, free range chicken.
Inglewood Farms use strict certified organic farming methods, where the birds are able to forage freely on grass, enjoying the air and sunshine, just as nature intended. With happier, healthier chickens comes superior quality meat in both taste and texture.
Inglewood Farms Organic free range chicken:
Is hormone free
Does not use antibiotics or other drugs
Bans the use of chemical fertilisers, chemical pesticides, chemical herbicides and genetic modification
Are able to enjoy fresh air, sunshine and grass
Spend approximately 75% of their life span outdoors
Restricts the use of artificial lighting
Uncrowded stocking density
Is government controlled and independently audited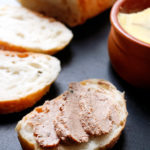 Chicken Liver Pâté
Total Time
1
hour
15
minutes
Ingredients
500

g

Inglewood Farms organic chicken livers

(certified by Australian Certified Organic)

*1

large

onion

, chopped

6

bacon rashers

, chopped

*1/2

tsp

dried thyme

1

bayleaf

Splash or port or whisky

, optional

Splash of sherry

, optional

*125

g

mushrooms

, chopped

*1

cup

light cream

*1

tbsp

fresh green peppercorns

*125

g

butter
Instructions
Clean chicken livers, before soaking in a bowl of milk for at least one hour. Drain well. Heat a little butter in a frypan over medium heat. Add chicken livers and cook until they are just cooked through.

Remove from the pan, and wash. Add a little more butter to your cleaned frypan and cook bacon, onion, thyme and bayleaf until golden and soft. Add livers to bacon and onion mix and simmer for five minutes before removing everything from the pan.

Add mushroom and cream to the pan, with a splash of port (or whisky). Bring to a boil, before reducing heat and allowing the mixture to simmer uncovered until it has reduced by half.

Remove the bayleaf from the mixture. Add the livers, bacon and onion mix into a blender or food processor with the mushroom and cream mix. Add your splash of sherry, and and blend until smooth.

Sprinkle in the green peppercorns and blend again until just combined.

To make the clarified butter, heat 125g of butter slowly in a pot over a low heat until the solids separate. Pour the melted butter through a cheese cloth or very fine sieve to remove the solids from the butter. Place a bayleaf or a small twig of fresh thyme on top of your pate, before pouring the clear butter over the top of your pâté. Cover, and refrigerate until the butter sets. Your pâté can keep in the fridge for a week.
---
*Denotes ingredients that can be sourced certified organic. Not sure where to find Australian Certified Organic ingredients? Go here.
This recipe is part of the Australian Organic Endorsed recipe campaign
Read more about Inglewood Farms here.
Locate a store near you that stocks Inglewood Farm products here.
Let me see all of your food creations and delicious snaps by using the hashtag #eatnik on your photos!
---
[1] Animal Liberation NSW. (2016). Australian Chicken Farming. Retrieved from: http://www.aussiechickens.com.au/
0