Skipping breakfast is never a good thing, but sometimes it can be impossible to fit in. Hectic mornings are a common occurrence in many households, and a lot of people just do not have the time to actually sit down and fuel their bodies with something nutritious.
As the saying goes: Breakfast is the most important meal of the day. According to Better Health Channel, breakfast breaks the overnight fasting period, replenishes your body's supply of glucose, and has the ability to provide other essential nutrients to keep your energy levels up all day long. Research has shown that children that regularly skip breakfast can increase their risk of developing overweight or obesity in the future, and have diminished mental performance throughout the day [1].
Breakfast smoothies may be the answer you need! Ideally, you want a smoothie that packs a punch, giving you the calories and nutrition similar to a sit down breakfast, but with the bonus of being quick, easy and portable.
There are a few things we should consider when replacing a main meal with a drink, the first being your satiety. It is likely that you won't feel as satisfied drinking your breakfast as you would eating it, and sometimes this is justified. If your smoothie doesn't contain enough protein and carbohydrates, you may not feel full. When I'm creating a breakfast smoothie, I always build it with a few important ingredients:
Fruit
A complex carbohydrate that will provide your body with some fibre as well
Some protein in the form of dairy, nuts or a protein powder
For the complex carbohydrate part, my favourite options include two Weetbix or a third of a cup of oats. Recently however, I have come across a fancy little mix called Breakfast Smoothie by Wholey Foods. This blend contains oats, whey protein isolate, almonds, coconut, sunflower kernels, chia seeds, pepitas and psyllium husk, giving you a great hit of protein, carbohydrates and fibre. As an added bonus, this mix is sugar free, and contains none of those artificial nasties.
This week, I used my Vanilla Breakfast Smoothie in a tasty smoothie bowl. If you're not in the habit of snapping photos of your food all the time like me, pour this smoothie straight into a portable cup and take it with you in the morning for a convenient breakfast that will satisfy.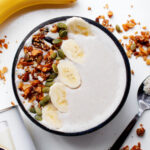 Vanilla Banana Smoothie Bowl
Ingredients
2

bananas

, plus an extra half for your topping

2

tbsp

natural Greek yoghurt

1

cup

milk

4

tbsp

Wholey Foods Vanilla Breakfast Smoothie

1

tsp

vanilla extract

Handful of ice

4

tbsp

toasted granola

1

tbsp

pepita seeds
Instructions
In a blender, place ice first, followed by bananas, yoghurt, vanilla, breakfast smoothie blend and milk.

Blend on a high setting until smooth.

Pour into two serving bowls and top with sliced banana, granola and pepita seeds.
Recipe Notes
If you're on the go, and will be drinking your smoothie rather than eating it from a bowl, add a little more liquid to give it a runnier consistency.
---
Your body is a creature of habit. If it has become used to skipping breakfast everyday, then it will eventually forget to provide you with the signal of hunger at that time of morning. Luckily, the body is easily re-trained! Try introducing something small to begin with, and then increasing up to a well-portioned meal over time, to get yourself back into the habit of having a nutritious morning meal.
Wholey Foods Breakfast Smoothie are available from Woolworths in the cereal aisle, or online here.
Let me see all of your food creations and delicious snaps by using the hashtag #eatnik on your photos!
---
[1] Better Health Channel. Breakfast. Retrieved from: https://www.betterhealth.vic.gov.au/health/healthyliving/breakfast
0