A common question I get asked in the clinics is:
"How do I make vegetables more exciting?"
For most people, vegetables are the bland, boring side dish included in our meals to make them a little more balanced and wholesome. They're often overlooked for their tastier neighbours, like the delicious meats or stews, or rich and moreish carbohydrates. Poor vegetable.
Vegetables are an essential part of a balanced meal. For the most part, our main meals should match the following proportions:
That is:
1/4 plate of lean protein
1/4 plate of a good quality carbohydrate
1/2 plate vegetables or salad
These portions ensure our meal is balanced. Each group provides our body with essential vitamins, minerals, nutrients and energy to help us get through the day. Unfortunately, only 8.2% of Australian adults are consuming the recommended minimum of five serves of vegetables per day [1].
When we think of veg, the boiled or steamed variety can often spring to mind, and this doesn't make anybody's mouth water. Vegetables do not need to be boring though. They're delicious and versatile ingredients, you just need to think outside the box!
One of my favourite vegetables is cauliflower. Simple and relatively plain, cauliflower can be transformed into a variety of different dishes that compliments your meat and carbohydrate portions perfectly. Alternatively, cauliflower can be used in a way that it makes up the bulk of the meal, rather than utilised as a side. Recently, I've been using cauliflower in two ways: to make a rich, creamy, hearty soup, or as a rice, to be mixed in with salads, or alongside a stew or curry.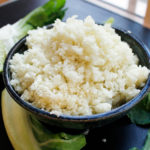 Cauliflower Rice
Ingredients
1/2

head

cauliflower

1

tsp

olive oil

Salt and pepper to taste
Instructions
Pull away the outer greens from your cauliflower, and chop into rough florets. Chop any parts of the stalk roughly as well.

Place florets in a food processor, or high powered blender, and pulse until cauliflower represents a fine crumb, similar to couscous. You may have to re-pulse the stalk parts again.

Tip cauliflower rice into a bowl. Use raw in salads, or heat one teaspoon of olive oil in a fry pan and cook cauliflower until it has softened slightly. Season with salt and pepper and use as you would rice.
---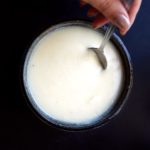 Cauliflower Soup
Ingredients
1

head

cauliflower

, chopped into florets

2

medium

potatoes

, chopped

1

tsp

olive oil

1/2

medium

brown onion

, sliced

1

clove

garlic

, sliced

600

mL

vegetable or chicken stock

, salt reduced

1

cup

milk

Salt and pepper to taste

1/4

cup

shredded parmesan cheese
Instructions
In a large pot, heat olive oil over a medium heat. Sauté onions and garlic until they soften slightly.

Pour stock over vegetables, and boil until all vegetables become tender (approximately 15-20 minutes).

Remove from the heat and pulse with a stick blender, or transfer to a high powered blender and puree. You may need to do this in batches. Once the soup is smooth, transfer back into the pot, and on to a low heat.

Add in milk, salt and pepper and parmesan cheese. Stir until soup has reheated, and cheese has melted in.

Serve with toasted wholegrain bread, or bread roll.

---
Remember, the way you use vegetables is only limited by your imagination. Look for exciting recipes that transform the produce into something that excites you, and you'll find yourself looking forward to the vegetable part of your meal each day.
---
[1] http://www.abs.gov.au/ausstats/abs@.nsf/Lookup/by%20Subject/4338.0~2011-13~Main%20Features~Daily%20intake%20of%20fruit%20and%20vegetables~10009
0