I love cooking,  but on occasion it is something that I just do not want to do. After an incredibly long, or stressful day at work, finding the energy to whip up something delicious and nutritious is the last thing on my mind.
But a girl's gotta eat.
My preference is definitely something easy, that goes nicely with a glass of something-something as I melt into a blob on my couch. What better choice than pizza! While tempting, lets resist the takeaway version though, because as easy as that would be, a better way to improve your mood is to fuel your body with a balanced meal.
When we think about our health, it is important to take time constraints and a busy lifestyle into consideration. For most people, and their families, a lack of convenience is a major factor to consider when preparing a meal. Research into Australian food and nutrition trends indicated the increasing popularity of 'labour-saving' or convenience foods since the 1970s, and the food industry responded appropriately, by producing products that decreased the time one needs to spend in the kitchen [1]. Unfortunately, convenience foods are coupled with a less-than-favourable reputation in terms of nutritional adequacy. However, over the years, while the demand for quick and easy food has continued to grow, so has ethical consumerism. We are also more aware of what we are putting into our bodies, and how certain foods contribute to our health. Consideration into how the product was manufactured or produced, and what harm it may have caused to animals, other people or the environment in the process are questions that have become more common when making a purchase.
Cue the Bare Bunny box hanging out in my pantry. I've only recently discovered this brand, and I'm very glad I did. A wholesome, delicious, ready-to-make product that cuts some of that painful preparation time right off. The Bare Bunny range does not include anything artificial, and products are certified organic. Bare Bunny products are a great buy when you're looking for a quick and easy option in the kitchen, but you don't want to sacrifice any nutrition.
Pizza is an excellent idea when you're playing host to a few friends, with the choice of toppings only limited by your imagination. Squeeze as many vegetables as you can in there, then top it with a little bit of stringy cheese… your guests won't even realise that your pizza creation may just be good for them.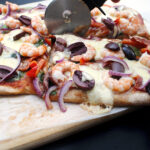 Spicy Prawn Pizza
Ingredients
1

box

Bare Bunny spelt flour pizza flatbread mix

(certified by Australian Certified Organic)

4

tbsp

tomato passata

200

g

prawns

, cooked and peeled

150

g

shaved spicy salami

2

cups

baby spinach

1/2

red capscium

, cut into strips

1/2

red onion

, thinly sliced

1/2

cup

pitted black olives

, halved

200

g

fresh mozzarella

, torn into rough chunks
Instructions
Prepare your spelt flour pizza base by following the instructions on the box. I made two large pizzas with the entire contents of the box.

Place your raw pizza base on a piece of baking paper on an oven tray. Spoon on the tomato passata, spreading it around evenly. Top with the rest of the ingredients.

Cook pizza in the oven for approximately 10 minutes, or until you can see the base turn golden brown and crusty.

Remove from the oven, slice up, and serve!
---
This recipe is part of the Australian Organic Endorsed recipe campaign
Let me see all of your food creations and delicious snaps by using the hashtag #eatnik on your photos!
---
[1] Australian Government, Australian Institute of Health and Welfare. (2012). Australia's food & nutrition. Retrieved from the Australian Institute of Health and Welfare website http://www.aihw.gov.au/WorkArea/DownloadAsset.aspx?id=10737422837
0