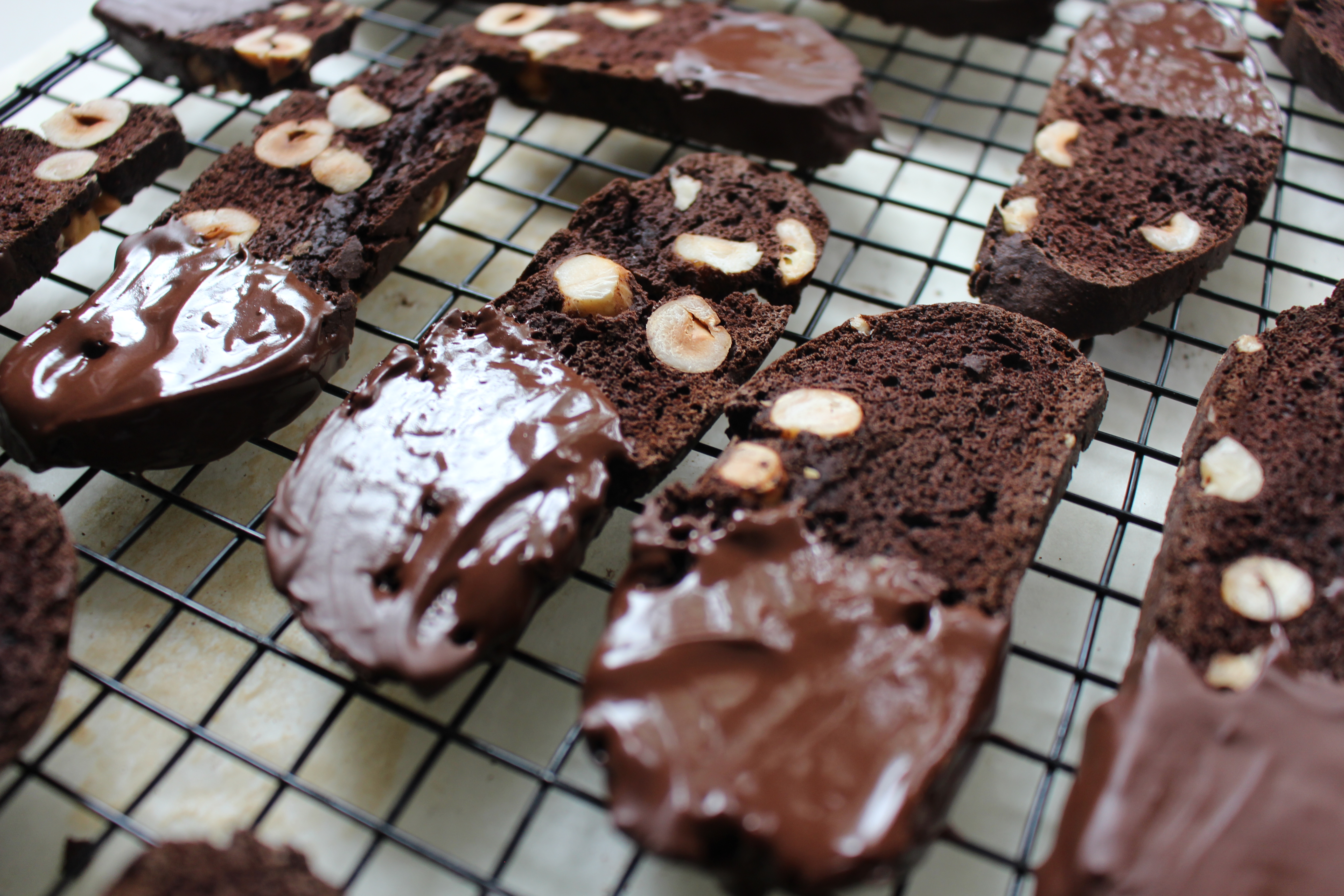 Christmas is right around the corner, and if you're still struggling for gift ideas, why not impress your friends or relatives with a present to satisfy their sweet tooth?
Queensland summer is notorious for storms, and it was no different today, with huge black clouds covering the sky for most of the afternoon. My sister and I enjoyed an afternoon of tea drinking, sweets baking and Michael Bublé Christmas Carol listening.
Biscotti is a breeze to make; way easier than I thought. I only made half this recipe initially, just in case it turned out to be a disappointment… it wasn't even necessary because the biscuits were crispy, sweet and delicious first time round.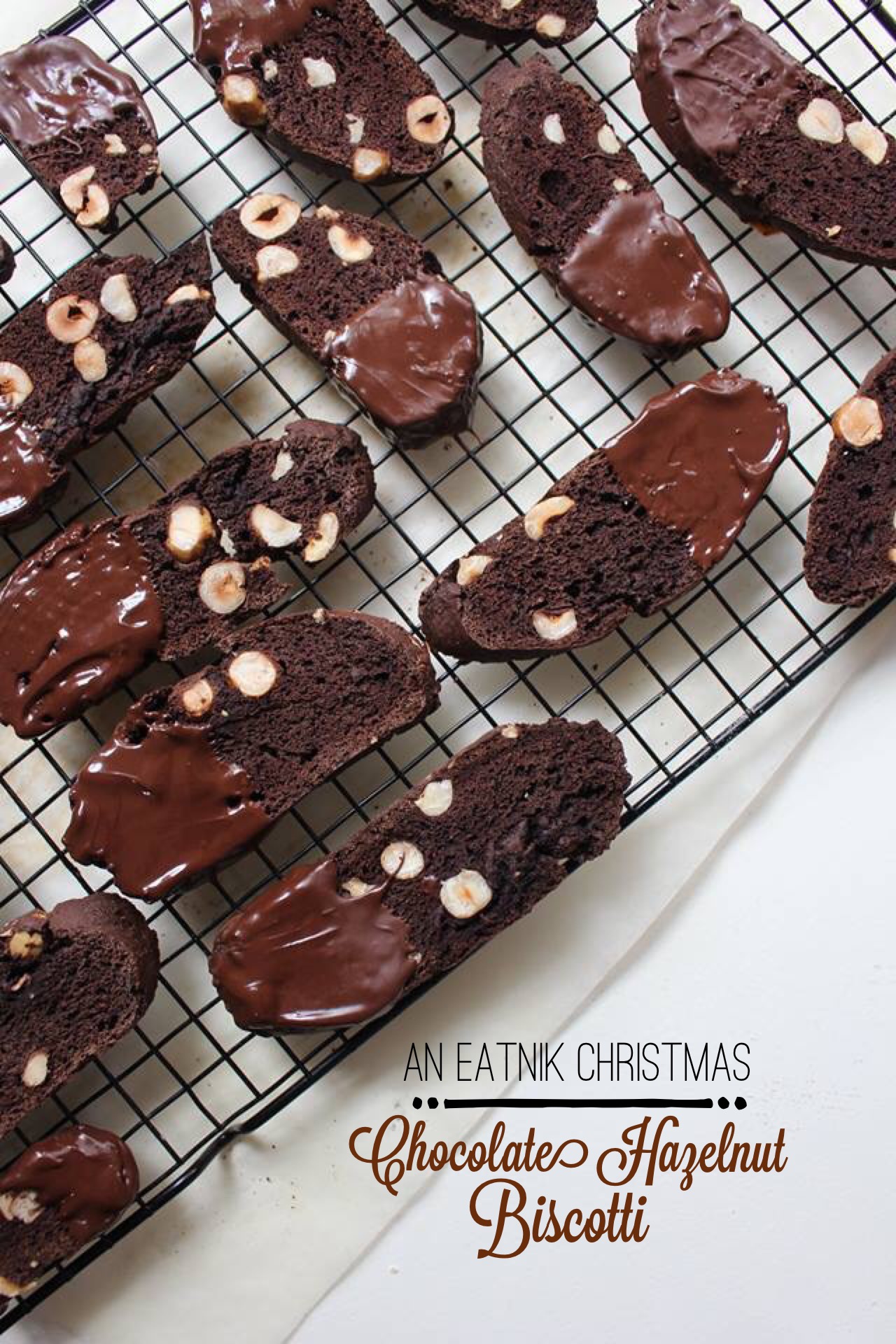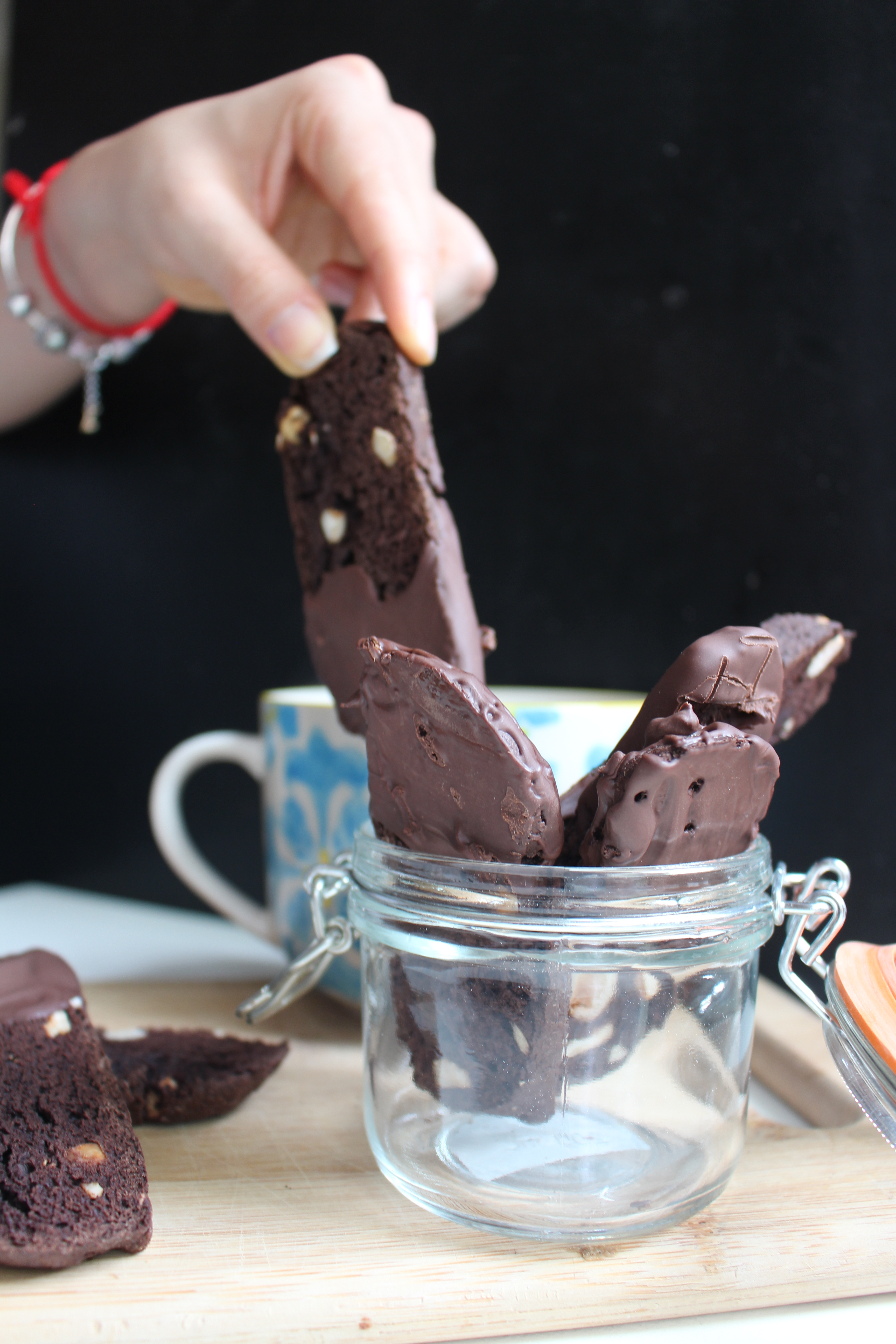 The dark chocolate dipping is just an extra splash of decadence; optional though. If you're looking to make these treats more natural, try substituting for coconut sugar or the like, and do a cacao + coconut oil concoction for the dipping decoration.
If you haven't got hazelnuts around the house, don't fret, any nut works well. In fact you can pretty much throw together a whole variety of ingredients and it seems to work. Macadamia + ginger, pistachio + cranberry, white chocolate chips + roasted almonds? Ye-yeah.
I'm planning on remaking these treats a couple of days before the 25th, storing them in cute little jars and bring them out for all to enjoy on Christmas day.
Chocolate Hazelnut Biscotti
Makes approx. 50 biscuits
2 c. flour
3/4 c. good quality cocoa powder
1 tsp bicarbonate of soda
1/4 tsp salt
4 eggs
2/3 c. sugar
1 tsp vanilla extract
1/8 tsp almond extract (optional)
2 tsp chocolate coffee liqueur* (optional)
1 c. hazelnuts, toasted and roughly smashed
200g dark chocolate buttons
Preheat your oven to 180ºC.
In a bowl, whisk together the flour, cocoa powder, bicarbonate of soda and salt.
In a larger bowl beat the eggs, sugar, vanilla and almond extracts, and the liqueur. Gradually stir in the dry flour mix, then the nuts. Dough should hold together nicely, however if you find it's a little crumbly, add a splash more liqueur.
Line a baking tray with baking paper. Divide the dough into two separate logs and space them evenly apart. Bake for 25 minutes, until the dough feels firm to touch.
Remove from the oven and allow to cool for 20 minutes or so. On a board, use a sharp or serrated knife, cut the log on the diagonal (I did so so they were about .5cm thick) to create your cookies. Lay the biscuits back down on the baking paper and return to the oven for 15 – 20 minutes, or until they are firm.
Boil water in a pot on the stove and place a glass bowl over the top, ensuring the bowl and the water do not touch. Add chocolate buttons and stir frequently until they melt down into a shiny delicious mess. Dip each biscotti biscuit in the chocolate and lay on a wire rack until the chocolate has set – approximately 15 minutes. Store in an airtight container, and consume within 2-3 days.
*This is just want I had in my alcohol cabinet. Any kind of liqueur would probably work! Whatever suits your ingredient combination. Or omit altogether.
Merry Christmas!
0